Wednesday, May 1, 2013
|
|
bulbs
,
cutting garden
,
Idea Garden
,
Rose Garden
,
Rose Garden
,
sensory stimulation
,
tulips
,
tulips
,
weather
,
what's blooming
Just because Daffodil Days are over doesn't mean the daffodils are done (especially this year). But we're onto the next thing. Even though there aren't anywhere near 50,000 tulips, they are doing their best to steal the show from the daffodils. Clumps of 10 or 20 here and there is all it takes, plus a warm sunny day like we've had for the last week or so, for them to open wide. It's almost as if they're demanding their own celebratory event. (Why not?) And every visitor is drawn like a magnet. Especially to the rows of cutting garden tulips. Some of the colors are so super-saturated that they're nearly impossible to photograph but even I had to try yesterday around midday because that's exactly when they're lit like light bulbs and knocking everyone's socks off.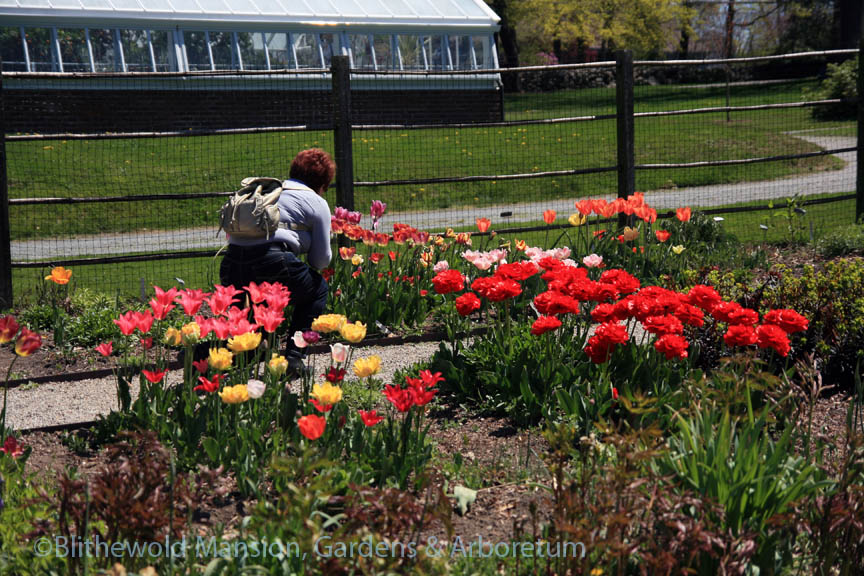 Every year we trial new-to-us tulips in the Cutting Garden and use them to plan next year's spring designs in the Rose and North Gardens but I don't ever remember having as many fast favorites as I do this year. Baby-girl pink is usually too sweet for my taste but 'Pink Star' has attitude and the prettiest wavy, baby-blue leaves. There's no way I wouldn't fall head over heels for 'Apricot Parrot' and it's even prettier than I imagined.
I thought 'André Rieu' was a little bit blah until I looked into its cobalt blue eyes and then I realized that I love its blue-purple color (its picture doesn't do it justice) and racing stripes. I'm not sure what to think of 'Red Shine', which is actually more of a blow-your-eyes out pink but I think I love it.
And it will be really hard not to use the fringed blaze of 'Miami Sunset' in every garden next year. They're extra cool because every bloom came with its own mini-me right alongside.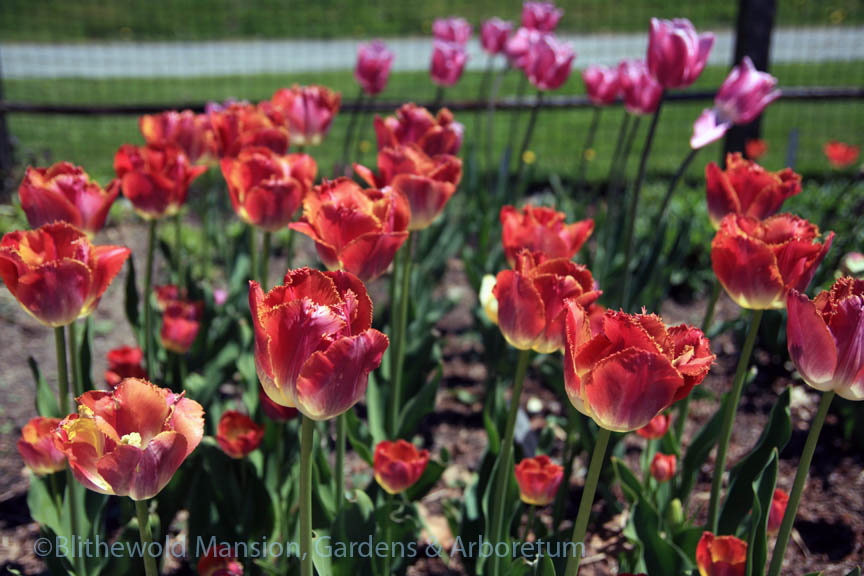 Gail and I keep sending volunteers up to see the tulips in the Rose Garden as if it's part of their job. (And so it is!) Along with fat fluffy over-saturated 'Miranda' that no one believes is really a tulip, and the tall and lovely 'Silverstream' that opened in a multi-colored range of yellows and reds and are fading now to red-edged creams, we have a few extra special species tulips tucked in and around the roses. 'Lady Jane' has been a favorite for a few years now and my new all-time, number-one favorite might be Tulipa orphanidea 'Flava', shown below right, still closed up on a chilly morning and complemented perfectly by cerulean blue forget-me-nots.
Last year we lost a lot of tulips to the squirrels (there were no acorns). This year we also lost a few in every garden mostly to deer grazing instead even though we dutifully sprayed stinky stuff and even spread a little Milorganite around (they hate that smell too). –And just yesterday the volunteers removed whole patches of bud-nipped tulips from the Idea Garden. But I can't say I miss them. The ones that are left are showy enough to celebrate spring in style.
Do you have a favorite tulip this year — or ten? Do you do anything special to keep them from being eaten or do you just make sure to plant enough to go around?