Friday, April 20, 2012
|
|
Display Garden
,
How, When, What-we-do
,
John Scheepers' bulbs
,
Spring
,
tulips
,
tulips
,
weather
,
what's blooming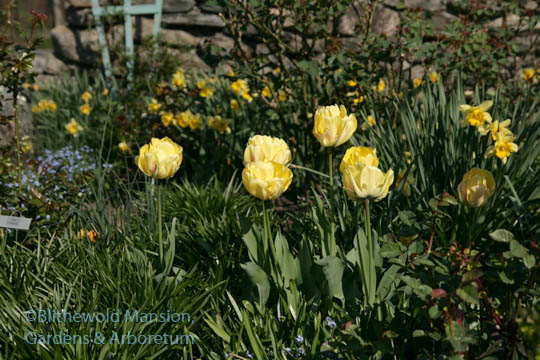 We were pretty worried this winter, when the oaks withheld their acorns, that the squirrels would eat every last tulip bulb. Thank goodness they left a few for us and our visitors to enjoy – it really was very generous of them. We're all especially glad they left a few Akebono in the Rose Garden, and everybody's other favorite, Miranda in the Display Garden. This is our second year for Akebono. We can't get enough of that yellow rimmed in a pencil of red and dashed with green. Miranda, a new one for us, doesn't even look like a tulip. More like a peony with flowers the size of cereal bowls and so heavy they've been snapping right off their stem. And their color is so intensely over-saturated that the only way I could get an approximate shot of it was to go out first thing on a cloudy morning.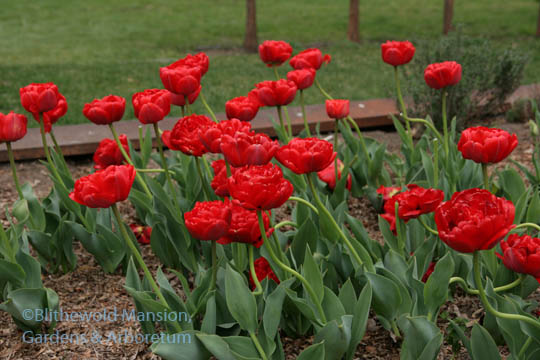 I've heard a lot of visitors exclaim over the size of the tulips as if they've never seen anything like them. I have to wonder, since tulip bulbs come with everything they need right inside the bulb, and their showiness has little to do with how awesome our soil is, if most people buy inferior box-store and joblot tulips rather than ordering from reputable bulb companies. I can see the appeal of one-stop shopping but I believe everyone's garden deserves better! We buy our bulbs from John Scheepers, Inc and they have a wonderful array of choices. I'm already thinking about next years order – while they're blooming is the best time to take those notes, but we won't place our order until the end of July. We might need more of a few of these…
This weekend we are faced with bit of a dilemma. The tulips are at their fragile peak and a potentially damaging rain is in the forecast. I hate for anyone to miss the tulip show but I have to hope we get a really good soaker. It's been too long and I would sacrifice the tulips if April showers relieve our drought and bring us extra May flowers. Are you forced to pray for rain too?