Monday, April 19, 2010
|
|
Daffodils
,
Davidia involucrata
,
dove tree
,
foliage
,
Maple trees
,
new leaves
,
Spring
,
Spring
,
trees
,
what's blooming
,
what's colorful
… and you never know what you might find. If I had to give a reason for why I garden it would have to be because of the new growth on plants. I'm much more fascinated by a baby leaf than almost any bloom. So, this morning to start my week off right, rather than scout for flowers – which I feel like I've been doing a lot of lately just to keep up – I focused on the emerging leaves instead. And because there's poetry in nature, it was a flower that made my day.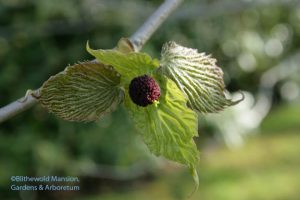 I have never seen the dove tree (Davidia involucrata) flower in its infancy before – probably because the tree only goes on my radar when the ghostly pale flower bracts drape the tree in an un-miss-able display around the middle to late May (earlier this year if I had to guess). Now that I know that the bracts around the flowers emerge green and wrinkled with the leaves, I will pay close attention early again next year.
For those of you who are still on the lookout for daffodils, they may be going by but are still putting on a gorgeous show. And besides all of the flowers on the property there's so much more to see – especially if you turn over some new leaves.