Tuesday, May 4, 2010
|
|
Annuals
,
How, When, What-we-do
,
planting
,
planting
,
Spring
,
Spring
,
tender perennials
,
tulips
,
tulips
,
weather
,
what's blooming
,
what's in bloom
It's official and I have the pictures to prove it. For the first time since I started this blog, I won't be repeating myself on bloom day. The usual cast of mid-May characters are blooming now! Which isn't to say that some won't still be blooming on the 15th – but by then a whole new group will probably be showing off in front of my camera.
I don't usually pay much attention to rose buds at this time of year but I might guess from the looks of these, they might not wait until June to open…
It's interesting to see the exuberance of the heat-triggered bloomers and fully leafed out trees in contrast with the plants that take their cue from day length. The temperature sensitive ones are the gamblers willing to take a chance on frost and the timing of pollinators for the pay off of a possibly longer season. But "late" ones strike me as the smart ones. It's as if they know something everyone else doesn't.
We gardeners are left to wonder and speculate about the rest of the season. Do early blooms signify a longer season or will winter come two weeks sooner? (I can't believe I just said that.) Will we sail through the North Garden's May gap on June flowers or will there be a lingering bloom delay after the tulips are well and truly done? Should we take our cues from the gamblers and risk planting annuals ahead of our usual schedule or should we play it safe and wait?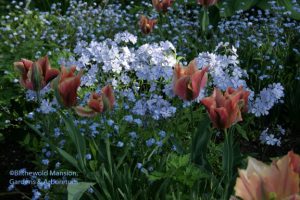 We'll actually do a bit of both here. May's full moon – our usual cue for getting the annuals in the ground – is as late this year as everything else is early. So we'll just watch the weather. Because the tulips in the Rose Garden have gone by, we'll start there. We'll take them out and in their place plant the cold-hardiest of the annuals/tender perennials first. The North Garden tulips are still looking stunning so we'll wait one more week at least before taking them out by which time we'll be right on our usual track in that garden – ready to plant by the last week in May.
I've noticed that some garden centers already have a few annuals out for sale. Will you wait or take a chance on planting now?