Yesterday was a lone decent-ish day in the middle of a whole bunch of dirty ones – with more ick on the way in the form of sleet, rain, wind and are they really forcasting snow?! So the Wednesday Rockettes and some flexi-schedule Thursday Florabundas spent a full morning cutting back and tidying up 3 of Blithewold's gardens so that we could say "we're ready!" for opening. If you can stand the cold (rain, wind, sleet and other early spring treats), late March to early April is a great time to cut back your perennials. They haven't grown much yet (at least here they haven't) and we could really cut close to the crown without beheading the new stuff coming up. (I can't stand to see sticks, nubs, stubs in the spring -or any- garden. It's a compulsion almost worthy of medical attention. I also can't handle bent spoons. Call me wacky.) The North Garden looked like this a week ago and now, although it's super quiet, it's super tidy!
They (who?- does anyone know?) say roses should be spring pruned before the Forsythia blooms. I saw only the before and after in the Rose Garden and the contrast was so dramatic I became all screechy with amazement. Last week I stood in front of a thicket of climbers that looked like this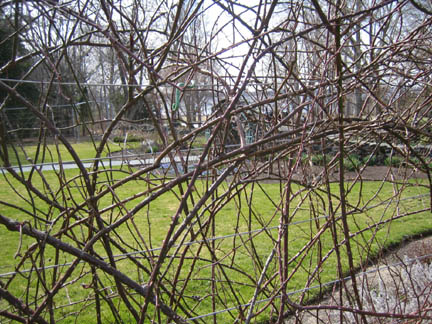 and this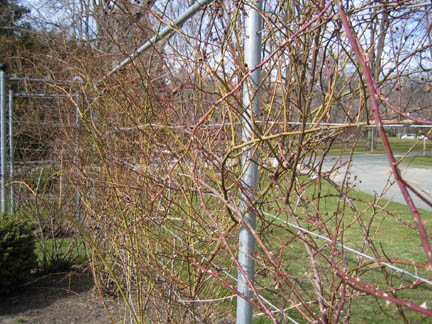 with pruners poised but totally incapable of decision! Now, after a morning with a couple of people who are able to commit, the climbers on the west side look
I wish I had been there to see and apprentice to the masters at work. Julie calmly said, "You just get a feel for where to cut. It's probably not done correctly…" Maybe a militant rosarian would scold, but looks pretty perfect to the rest of us, doesn't it?