Friday, May 1, 2009
|
|
daff cam
,
Maple trees
,
planting
,
Spring
,
Spring
,
trees
,
volunteers
,
volunteers
,
weather
,
what's blooming
,
what's colorful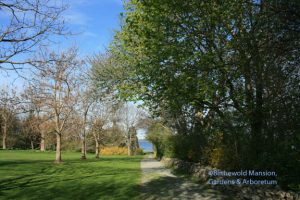 The landscape is changing before our very eyes. Plants have taken advantage of the recent heatwavelet to push out leaves, flowers and seeds like it's their job and they're putting in for overtime. I'm astonished to look up and see nearly fully clothed trees – I thought I had been paying attention but it's happening so quickly now. I've been told that it's every New Englander's birthright to complain about the weather and we are given special dispensation to whine about the brevity of spring. I have to admit that even though I like to think I have a Pollyanna-ish appreciation for all kinds of weather and a keen eye out for spring, I've been whining a little louder this year too. Wouldn't we all like the tulips to hold on, the cherry trees and magnolias to keep blooming, and the trees to stay nearly naked in their feather soft lingerie a little longer? – Or is it just me?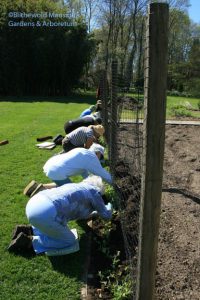 Like the trees, we've taken advantage of the sun and warm temperatures too and are keeping ahead of schedule. Gail's new mantra is "we'll plant something everyday and it will all get done." We've got another 8 weeks or so of planting ahead of us and if we keep up our industrious pace, we'll be done in … I would guess … maybe 7 weeks. On Tuesday the Deadheads planted the sweet peas right on schedule – they graciously allowed me to take my annual chorus-line shot of them. And Wednesday the Rockettes tackled planting lettuce, cabbages, Swiss chard, beets, pansies, orlaya and calendula in the Display Garden bed that we have designated The Potager.  Gail and I wrestled the crowning agave into the (almost) exact center of the ellipse and are crossing our fingers that we won't have a frost. The weeds, of course, are putting in overtime too and the Florabundas had their work cut out for them yesterday in the Rose Garden. (Gail and I planted peonies. – Plant something every day!)
Now that the weather has turned gray and rainy, we'll complain a bit about that too. But everything recently planted will take the opportunity to get straight to work.
What is working overtime right now in your garden? – Are you?