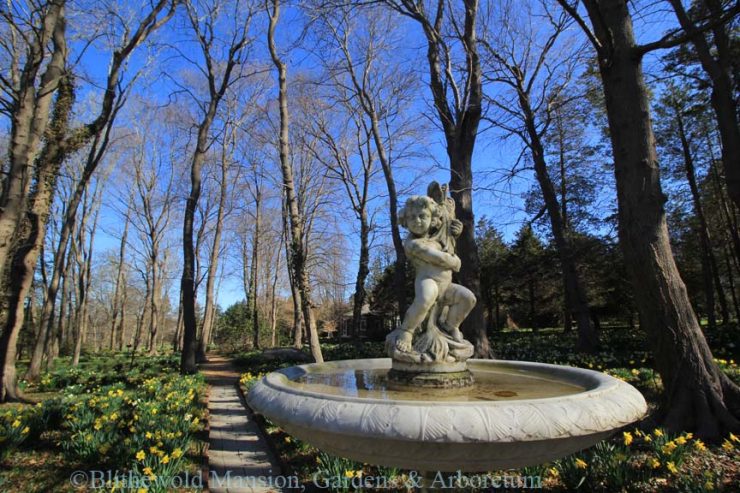 The transformation from winter to spring has finally arrived at Blithewold. The entire landscape is coming more alive each day with perennials emerging, tree buds unfurling and spring flowers starting to bloom. It's a delight to see this green world all slowly unfold and a reminder that nature is amazing. It's certainly not to be missed!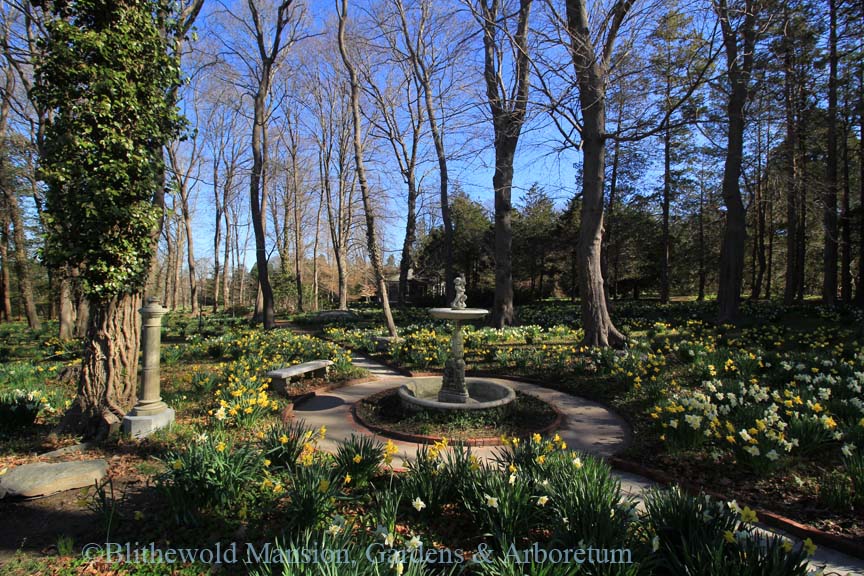 No spring transformation would be complete without a spectacular daffodil display with their bright cheery colors plus their delightful sweet scent. This is the time to see the Bosquet filled with a superabundance of our daffodils all naturalized in a woodland setting. It is a delight for the senses! Walking along the path the mayapples (Podophyllum peltatum) are just coming up like folded umbrellas along with the trout lilies (Erythronium americanum) and trilliums (Trillium grandiflorum) not yet in bloom. I'm enchanted by the fern fronds which emerge as delicate fuzzy coils, some are referred to as fiddleheads because they resemble the ornamental scroll at the end of a violin's neck.
The Rose Garden has a sea of purple and blue with grape hyacinth species (Muscari ) and Siberian squill (Scilla siberica) covering the gardens. Floating above this deep-colored ground cover is coral Tulip 'Toronto'. Our plan of combining understory bulbs to bloom with the tulips has created a delightful duet. I'm especially thankful for our garden volunteers and staff who planted all these bulbs with care last October. It's hard work with a rewarding result.
New plantings and faithful familiar flowers make a trip to Blithewold an exciting spring experience!
Click here to see Gail's video of the daffodil filled Bosquet.