Friday, October 9, 2009
|
|
chrysanthemum
,
color
,
fall
,
fall color
,
lotus
,
seasonal change
,
weather
,
what's blooming
,
what's colorful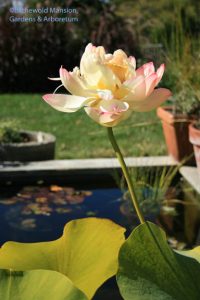 It's certainly not over (there's truly no such thing as over in the garden – slowed down maybe; hushed a little; moved inside, perhaps) but the blustery winds of change have made the seasonal shift much more perceptible in the last couple of days. Gusty October gales have scattered the first major leaf drop and flipped up the skirts of late bloomers in the gardens making everyone look a little wild and disheveled as if they all stayed up too late and really need their beauty sleep now.
In one way our season at Blithewold is coming to an end. After this weekend, the mansion will be closed until the day after Thanksgiving (when it reopens transformed). The grounds remain open all year but we take the house closing as our cue to get into the gardens to dig up, divide, reorganize and plant bulbs. If you haven't been by lately and want to see how the colorful the gardens still are – just before they are put to bed, don't let this weekend blow by.
It's amazing to me – I could say I'm blown away about how the palette of colors in the garden and greater landscape really changes in the fall. If spring is generally pastel-y and summer is electric Technicolor, fall is definitely deep earth tones, 70's style. Even the colors of everything still blooming in the garden, dahlias and roses particularly, intensify in a way that works with the fall palette of oranges, avocado greens, maroon browns and mustard yellows and help to keep it all up to date. And the chrysanthemums, like 'Sheffield Pink', 'Clara Curtis' and the mystery burgundy one in the North Garden, that are just beginning to come into bloom jive perfectly too.
There's something mysterious and beautiful about the angle of light. The angle itself is similar to spring but the feeling of it is so different maybe because of deeper shadows of lush foliage – spring light is bare and wide open. Gail and I were talking the other day about the seasons and she determined that I am definitely a spring person. I'm full of energy and go into raptures about a single unfurling leaf and the color chartreuse just gets me. She on the other hand loves autumn the best partly because of the abundance of blooms and the satisfaction of seeing the spring's hard work truly fruitful. I can totally follow that. I know she's right about me and spring but I want to call fall my favorite too.
Have you been blown away yet this fall?
Bonus question: Do you have a guess on the identity of the burgundy chrysanthemum pictured above, left? (We think it might have been planted in the North Garden by a bride looking for late season color a few years back and it's grown into a handsome clump that's just perfect in the North Garden!)