Wednesday, August 1, 2018
|
|
color
,
garden design
,
How
,
North Garden
,
Rose Garden
,
sensory stimulation
,
tulips
,
What-we-do
,
what's blooming
,
what's colorful
,
what's in bloom
,
When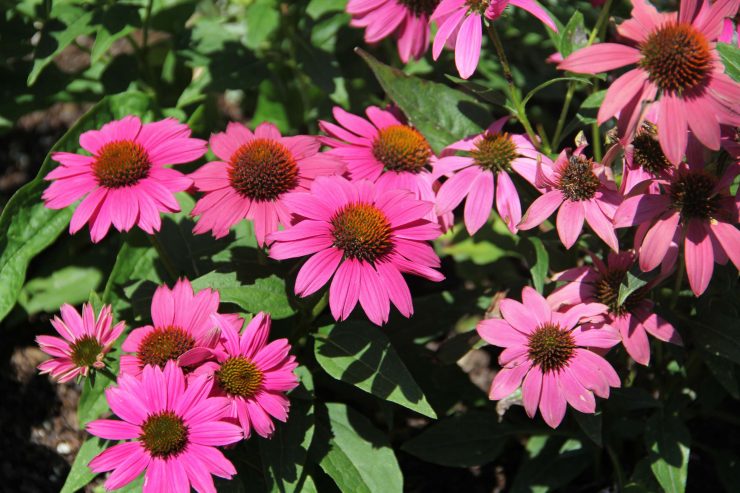 One of the very first things we decide each year is the color scheme for the gardens. We debate and plan and finally develop a concept that will work for the growing year. Color is an integral part of all of our lives. We are calmed by greens and blues, made bold by reds, made happy by yellows, etc. Here are three very different colors in the gardens. Notice the feeling evoked with each image.
The featured image at the top is Echinacea 'PowWow Wild Berry' from the Rose Garden. (I wrote about about the dahlias in the Rose Garden last week here.) This year the Rose Garden is clothed in pink, magenta, and lavender. A bit bold and girly perhaps, but with a sweetness both friendly and welcoming. Every meaning of the color pink I could find incorporated the word "love." What a nice feeling for the garden! I enjoy the colors in both the Rose Garden and the North Garden. But what I truly appreciate is the difference in how I feel in these gardens. I can't enter the Rose Garden without feeling a happy excitement. The North Garden on the other hand is a calming space. A garden is a reflection of someone (or a team of someones). These two garden areas allow us to play with how we represent ourselves and Blithewold. It is appropriate that the Rose Garden feels like a welcome space, because it is often the first garden experience one has at Blithewold. It is also a bit more free and fun with a mostly unstructured cottage garden feel. This is not to say that we don't plan every last square foot of space in the Rose Garden, because we spend a good deal of time preparing for seasonal changes with new plants and bulbs and annuals in constant rotation.
Creating and maintaining a garden is a rewarding experience. It is also an artistic endeavor. I heard it described once as "the slowest performing art." I've never been able to top this description. The gardens are created to be enjoyed from April to October each year. They are constantly growing and changing. We make small changes and big changes. All of the work we do is to create a garden that always looks its best.
After taking last week off from work, I returned on Monday to find so much had changed in the gardens in that short time. The gardens surge forward with the heat of summer. Now we pray for much-needed rain. It's another dry, dry summer here in Bristol. Here is hoping we are graced with a shower before too much longer.
If you need a dose of color in your life, come visit us.
See you soon!