Friday, July 20, 2018
|
|
Annuals
,
dahlia
,
Display Garden
,
How
,
oakleaf hydrangea
,
pollinators
,
Rose Garden
,
vines
,
weather
,
What-we-do
,
what's blooming
,
what's colorful
,
what's in bloom
,
When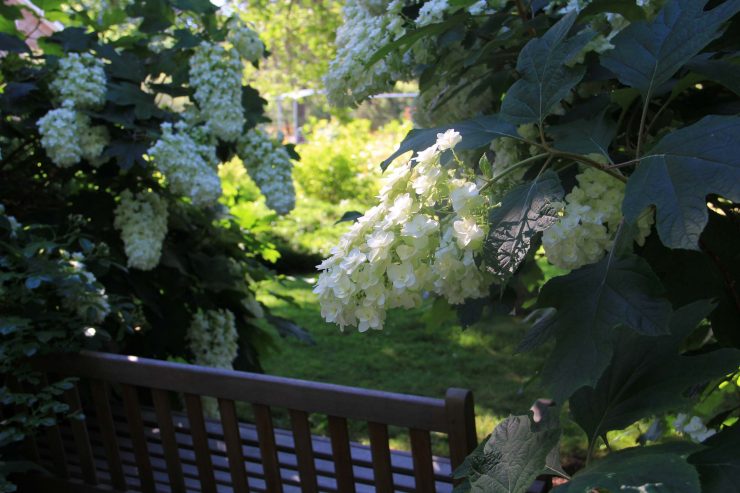 Phew! It's been a hot couple of weeks. The plants and the people have been doing their best to stay comfortable in the humidity. Often the heat spells the end to some of our favorite flowers. The sweet peas I wrote about last time have been total champions in the heat! Usually the week of July 4th there is a heat wave that brings these beautiful blooms to an end, but these varieties have withstood the extremes like true veterans. We are so pleased to see them blooming this far into the summer. We plan to say farewell to these lovely annual vines next week; however, there are several types of heat-loving vines that are waiting in the wings to take their place.
If you missed the sweet peas this year, don't fear. There are many other flowers just breaking into bloom that are sure to grab your attention. The dahlias in the Rose Garden, for instance, are beginning to look really lovely.
The five dahlias currently in bloom in the Rose Garden are 'Clearview David', 'Elfin', 'Rhonda', 'Elizabeth', and 'Stillwater Plum'. It's pretty tough to pick a favorite here (especially since I share a name with Elizabeth). Dahlia 'Clearview David' is the tallest and biggest of the bunch. You will see this one toward the back of the gardens. 'Elfin' and 'Rhonda' are in the middle ground and diminutive 'Elizabeth' and 'Stillwater Plum', both only about a foot tall, occupy the prime spots along the front edge. There are several more dahlias that have recently been added to this collection, but we won't be seeing their flowers for at least a few weeks. I will keep you posted!
All of the gardens are chock full of flowers right now. Oh the glories of July! Pollinators of all shapes and sizes have taken notice of this sweet source of nectar. The sea holly (Eryngium planum) is especially popular. Here it is being enjoyed by (at least) five different pollinators. None of them bothered me at all as I stood over the flowers to take pictures. They may be scary looking, but these bugs are not aggressive and are way more interested in feasting on pollen than in me (no hurt feelings). This plant is the pizza of the plant world – equally loved by all!
The Cutting Garden in the Idea Garden area is also coming into its own. Although not a true Cutting Garden, we design this area every year to show all of the possibilities for what to plant in a home cutting garden. Flower farmers grow hundreds (even thousands) of flowers to cut for sale. We grow these annuals and perennials in a pleasing mixed border and cut from them to supply the house with fresh arrangements weekly. Yesterday we decided it was time to let go of the beautiful shirley poppies and the false queen anne's lace since they are cool weather annuals that were beginning to go to seed. In their places we planted cosmos, chrysanthemums, scabiosa, and monarda punctata. The zinnias are blooming their sweet heads off and I am constantly cheered by their presence.
This snapdragon (pictured below) in the Cutting Garden has been blooming for weeks now. I appreciate the intense yellow-orange colors (not something I ever pictured myself saying as orange is not one of my favorites), but there is simply a happy energy with these blooms.
I hope you find your own happy, peaceful energy when you stroll the gardens here. They are delight for all the senses. We look forward to seeing you soon!