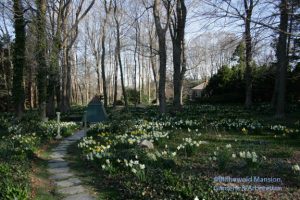 The daffodils are a little early for their own party. It's kind of like planning a surprise for someone who decides out of the blue to drop by early just as you're putting up the streamers. No matter. They're here (I might even call it peak this week) so you should be here too. Although the days and nights are forecast to be on the warm side,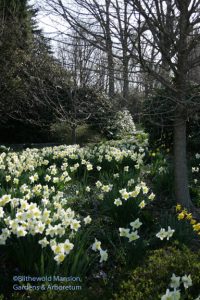 I'm sure the show will still be stupendous this coming weekend when the house opens for the season – and remember the grounds are already open (year-round). We'll celebrate the daffodils from April 10 through May 2. And if the dear daffs begin to go by during their official "days" we'll put the party hat on everything else. (We'll have Epimedium days! Trillium days! Crabapple days! Tulip days!…)
For what it's worth, I don't mind when the daffs begin to go by because the focus can shift to other beautiful things that might otherwise be overlooked. –Like the teeny-tiny samaras on the red maples. And of course, toads.
Meanwhile in the gardens we can just about check cutting back perennials off our list. We finally got to the soggy Rock Garden and North Garden on Friday, and Gail and I spent today starting to prune the Rose Garden. As I was being pinched and scratched and grabbed at, I tried really hard to remember why I love roses so much. I'm sure it will come to me…
Did you check anything off your list this weekend or did you simply celebrate spring?