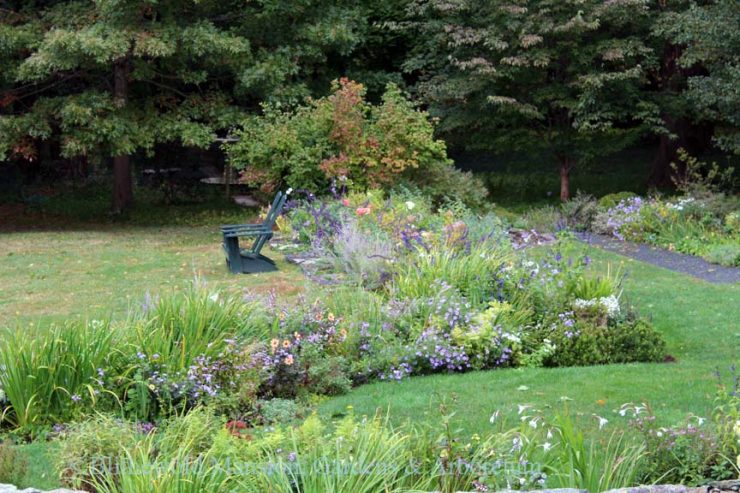 It seems that we have been waiting all season for our dahlias in the North Garden to show themselves. They have peaked out here and there in August and September, but now that October is here they are blooming with great gusto. Some of the problem for us was the deer – they had strolled through several times munching the sweet buds from the dahlias towards the front of the garden right before they were about to bloom.
To see the dahlias in full bloom now is certainly a treat, even if we will be taking the gardens apart next week. It's one last hurrah from these beauties before we say goodbye for another winter of rest.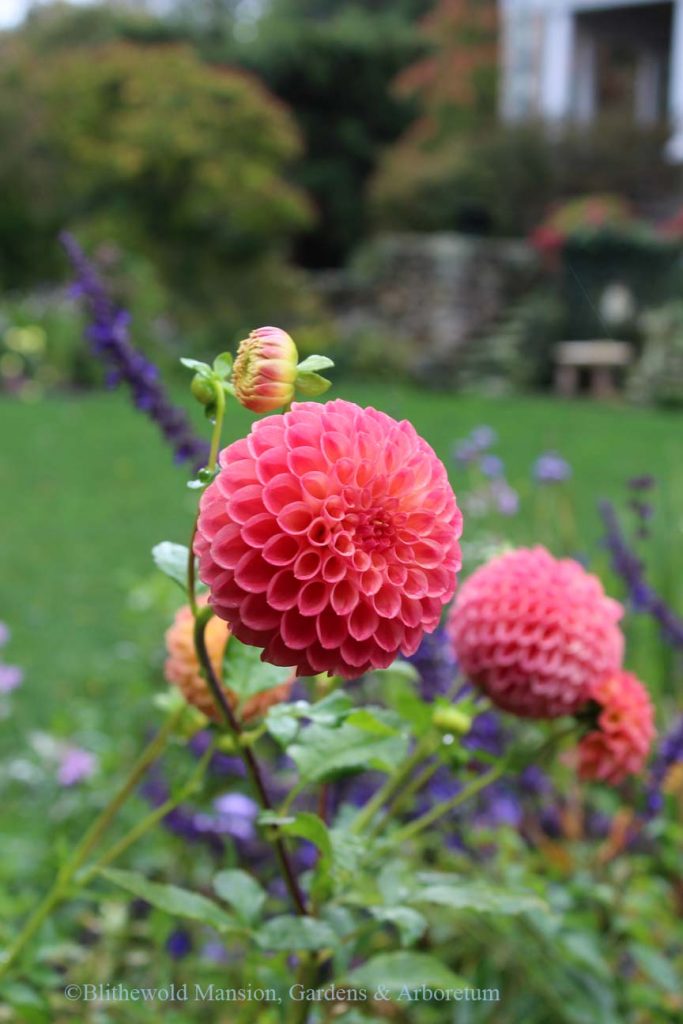 The color schemes for our gardens are decided long before the growing season begins. The North Garden color scheme is usually a variation on white, yellow, and apricot. Sometimes we make a last minute tweak – like the addition of the dahlia pictured above. When 'Snoho Doris' arrived from Stonehouse Dahlias, we realized it might just be the extra color we needed in the North. I've been enjoying it for months. It's original color when the weather was warmer was more apricot/peach. I don't mind that it has now deepened to a near raspberry color. Anything that vibrant this late in the season is welcome!
Our classic yellows and whites can be found towards the front of the garden. 'Alpen Cherub' is an open collarette type dahlia, which we adore in part for the form and in part because its pollen is so much more accessible for the bees. 'Taxi Driver' is another open type dahlia, but with deep purple lacy foliage. It is also on the small side – topping out at about 12 inches. 'Gallery Serenade' had blooms so big and heavy I am amazed it was able to stand up as well as it did. It is also a short dahlia – about 12 inches.
Dahlia 'Giggles' is a favorite from years past. The lavender collar with peach petals is simply stunning in the garden. We also have a long love affair with Dahlia 'Happy Single First Love', whose name couldn't be more fitting. The Happy Single series of dahlias is one we definitely recommend. The dahlias in this series all have dark foliage and are single flowering. They don't have the layers upon layers of petals some may think of as a classic dahlia type, but we think this is a huge benefit since the flowers stay upright much more easily. And, as I mentioned above, their readily available pollen is always appreciated by the bees. Dahlia 'Calin' is a bush type that did not grow as wide or tall as we thought it might. It did, however, produce many beautiful blooms throughout the season, each one tinged with yellow and just a touch of pink at the tips.
The dahlias aren't the only plants in glorious flower this week. Asters, sages, and many of our annuals are still blooming beautifully.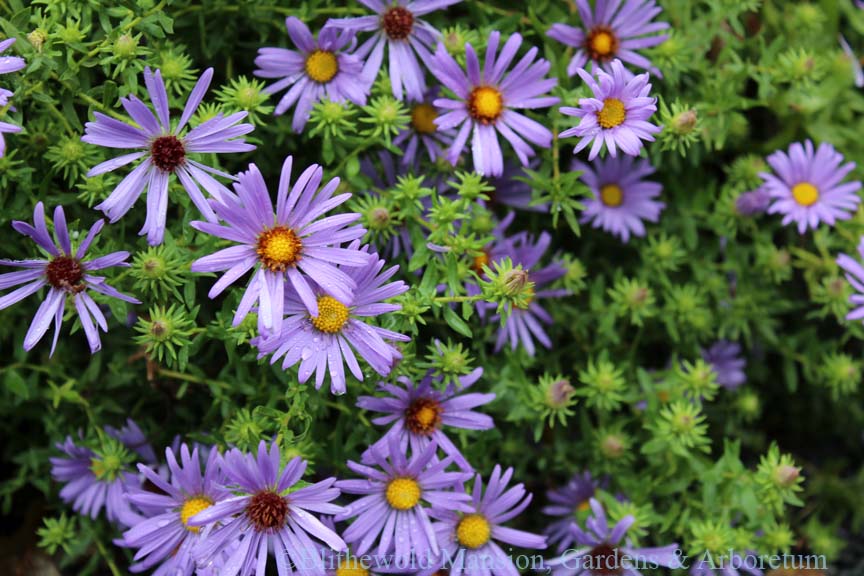 The dreary cold weather this week might keep you curled up inside, but we hope when the sun breaks through this weekend you will come enjoy this last burst of blooms in the gardens at Blithewold. Treat yourself to late fall magic in the garden!