Friday, October 3, 2014
|
|
bumblebees
,
Cutting Garden
,
dahlia
,
dahlias
,
fall
,
fall flowers
,
North Garden
,
Pollinator Garden
,
Rose Garden
,
sensory stimulation
,
the bees
,
what's blooming
,
what's blooming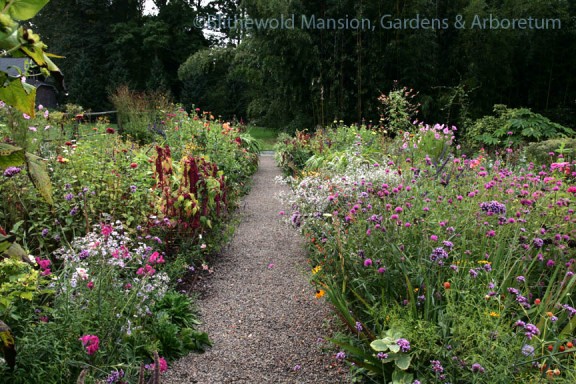 Back when I first started here at Blithewold I remember Gail saying that fall was her favorite season. As a perennial lover of spring I thought that was a little strange and it made me wonder what I had been missing. A lot evidently. And it didn't take me more than a year or two in these gardens to come around to loving fall best of all too. Not that I don't still love spring, but fall, especially as it coasts along on cool nights and crisp days, is vibrantly pretty, interesting, and blissfully relaxed. Until the gardens really begin to fall apart (pun intended) or in our case, until the mansion closes for the season (October 13), the only pressure we're under is to keep the gardens blooming and beautiful. It's almost too easy and it's certainly too much of a pleasure to call any of it "maintenance." As a matter of fact, after a week's vacation, and some much needed rainy days, I was itching to get back out into the gardens to do some deadheading, propping, grooming, and enjoying. I have been telling everyone I meet lately, whether they've been to Blithewold before or not, that now is the time to visit. And here are some pictures from the last two days to back me up. Hover over for captions and click for a larger view. (The photo above is of the Cutting Garden, still blooming gangbusters.)
We're still catching glimpses of hummingbirds in the gardens, working the Salvia guaranitica as if it's their job (it is) — they're probably travelers on their way south coming through for a pit stop. Right now though bumblebees are winning the cuteness contest. Low temperatures seem to make them sleepy and slow and we have to be extra careful to not deadhead any occupied flowers/bedrooms. Are they all over your dahlias too?
And have you been swayed by fall?