Thursday, February 26, 2009
|
|
forcing branches
,
Forsythia
,
How, When, What-we-do
,
lichen
,
Philadelphia Flower Show
,
what's colorful
,
winter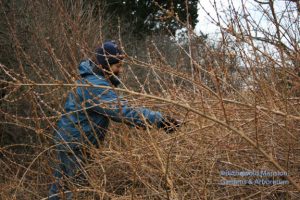 Anyone who has ever been to a flower show in February or March knows that the exhibitors work very hard to manipulate the seasons.  We're all so ready by now for winter's end – especially when there's more snow in the forecast – that it's a delicious thing to walk into a cavernous room filled to the corners with plants in fully impossible bloom.  I used to go to the Northwest Flower and Garden Show even when I didn't have a patch of ground to my name just to see and smell spring and pretend the sun was shining.  This year I missed the Rhode Island Flower Show but … drum roll, please … I'm headed to PA for my first ever glimpse of the one and only Philadelphia Flower Show.  I'm prepared to be overwhelmed.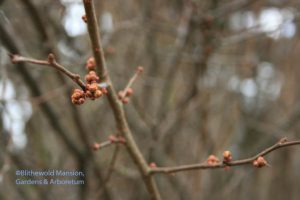 Meanwhile, we're forcing the season just a little too.  Forsythia and Quince will come pretty quickly indoors now – The buds on the branches we picked should be starting to break in a week or so – just in time for my return to work after a little vacation.  Now is also the time to prune the fruit trees so we also picked up some flowering crabapple branches that Fred and Dan had worked on.  Those will take a little longer to open up.  The best branches for forcing are the ones you've removed for shaping rather than the long sucker-y water shoots.  When you bring branches inside, make a new sharply angled cut, split it vertically a couple of inches or some say to even smash it a little to expose more pith to the water.  For faster forcing, use very warm water and change it daily; to slow down the bloom, keep the branches in a cool room, in cool water.
I'm looking forward to my trip but I really wonder if I'll see anything as lovely as this lichen which, since it's living on a downed branch,  is only about as long for our world as a flower show exhibit.   While we're on the subject of lichens…  did you know that they are actually a partnership of two organisms – a fungus and an alga?  I didn't!  I also just learned here that Beatrix Potter, famous for Flopsie, Mopsie and Mr. McGregor, is credited with first proposing the existence of that relationship (which scientists are still debating about defining as "parasitic").  Learn something new everyday.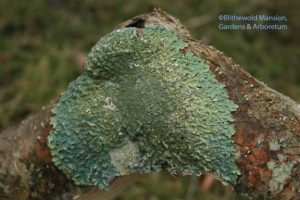 Will I see any of you in Philadelphia?  I'll be sure to compare notes and share pictures (if I manage to get any) when I get back the week after next.  Think spring and force it if you have to!