Monday, May 15, 2017
|
|
Annuals
,
container plants
,
garden design
,
Gardens
,
How, When, What-we-do
,
North Garden
,
North Garden
,
planting
,
Rose Garden
,
Rose Garden
,
Spring
,
Spring
,
spring planting
,
tulips
,
tulips
,
volunteers
,
volunteers
,
weather
,
weather
,
what's blooming
,
what's colorful
,
what's in bloom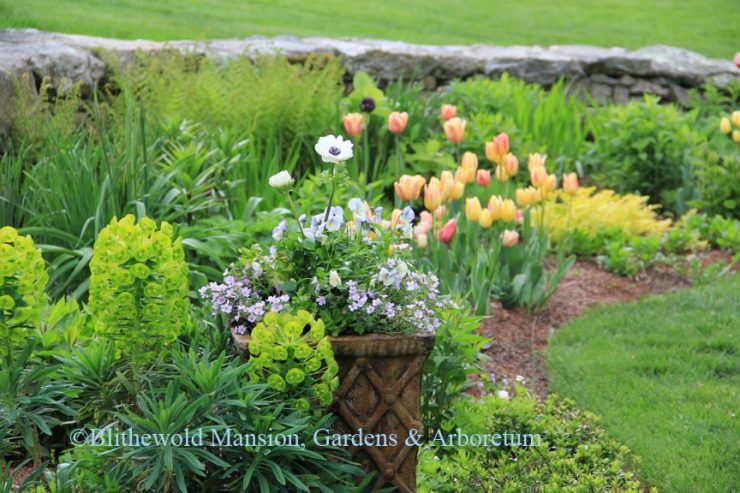 I am so ready to see the sun!  After the drought last summer, I didn't think I'd ever grow tired of rain again, but here I am.  It's not so much that I don't want the rain, but I think we all could certainly use some sunshine.  I can't recall the last time we had a cold, rainy Mother's Day.  All that rain will probably feel like a distant memory by Thursday when we're supposed to have a high near 80 degrees.  Summer here we come!  With our eye to the high temperatures this week, Gail and I have been taking advantage of the cooler wet weather to do as much planting in the gardens as we can.  Our cool weather annuals have been planted.  Snapdragons and Violas are planted in the Rose and North Gardens. Lettuce, kale, sweet alyssum, parsley, spinach and calendula in the Herb Bed.  Many of our trusty garden volunteers came in to help us out with the early spring planting.
Gail and I planted the wedding tent containers in the rain one afternoon before the first of the season's weddings.
Along with planting comes the all-important compost.  It is our not-so-secret ingredient.  Some of you may recall that we make our own compost here at Blithewold.  It's not perfect, but we definitely see good results from our container plants when we use our compost in the mix.  We have recently run out of our aged compost (until the next batch reaches the proper age), so we called up The Compost Plant.  They delivered a gorgeous load of compost for us one afternoon to be used in containers, gardens and the vegetable bed.
You can find more information about Rhody Gold compost from The Compost Plant here.  We're proud to support local business, especially when it creates something as beautiful as Rhody Gold compost.  Stay tuned for future updates on our experience with this.
Spring is always busy with planting and potting and finalizing plans in the gardens.  Sometimes it's important to take a moment to reflect on what we've done so far.  The tulips, for instance, were a hit this year.  Gail and I loved the choices we made in the Rose Garden.  We hope you did too!  Here are a few pictures from the past couple of weeks.
The North Garden is looking lovely right now, as well.  The containers in the beds are planted and looking quite sweet.  The tulips are still blooming – though I'm sure the hot weather coming our way this week will spell the end for them.  The geum, nepeta, nemesia, and violas are looking lovely.
The gardens really do look lovely this time of year.  I hope you get the opportunity to come visit us soon!