Wednesday, July 12, 2017
|
|
delphinium
,
echinacea
,
fave rave
,
Hydrangea
,
lilies
,
Rose Garden
,
Rose Garden
,
sensory stimulation
,
what's blooming
,
what's colorful
,
what's fragrant
,
what's in bloom
Today we reached the point in the season when it truly feels like summer.  It's hot and humid outside and we are waiting on another thunderstorm to possibly roll through the area.  What better time to stop and sit under a fan and think about how the gardens have (so far) lived up to our dreams?  Take, for instance, the lilies.  Lilium Trebbiano 'Gerrit Zalm' (pictured above) is looking quite nice these days in the Rose Garden.  Its bloom first opens a pale banana-yellow and fades to almost white.  The scent is lovely, too.  I have, in all honesty, never been a big fan of lilies.  They remind me of traditional floral bouquets that possess a scent too intense for contained spaces in the home.  However, having now experienced these flowers in the open garden for several years, I can confidently say that I like them.  (I even named my dog Lily!)  The powerful scent they release wafts over the Rose Garden at just the right level.
Another new favorite is Delphinium (Delphinium elatum) .  These plants are gorgeous in their native environments (Western Europe, Russia and Asia) but generally do not appreciate the heat and humidity we have here in Rhode Island.
Anyone who has spoken to Gail about the gardens this year knows of her desire for big "ancient clumps" of Delphinium.  We ordered over a hundred plugs of two different Delphinium cultivars this spring in the hopes of producing giant blue flower spikes in all of the gardens.  The flowers have just begun to bloom in the past couple of weeks.
One more new/old favorite I have to mention is Hydrangea.  We have many varieties here on the property and I could not be more pleased to see them after last year's late frost that literally nipped our gorgeous display in the bud(s).  I'm not sure if it's simply my joy in their reappearance, but the flowers appear even more beautiful than usual this summer.  Here is a sampling of Hydrangea on the grounds.
I will also include this next one even though it is a variety that was unaffected by last year's frost as it blooms on new wood.  I am always captivated by Hydrangea quercifolia 'Snowflake', which you can find in the shady corner of the Rose Garden.
When it comes to gardening there is always one or two plants that disappoint.  Last year, we planted two new cone flowers in the gardens – Echinacea 'Supreme Cantaloupe' in the North Garden and Echinacea 'Supreme Flamingo' in the Rose Garden.  They wowed us with their stunning color and long summer display.  This year, very few plants lived through the winter.  We still love the colors, but are definitely disappointed to have fewer flowers in our gardens.  Here is one of the flowers that survived from last year.
I don't want to leave you on a sour note, so I will end with this: despite flowers that disappoint, everything is still beautiful!  Here is a recent shot of the Rose Garden.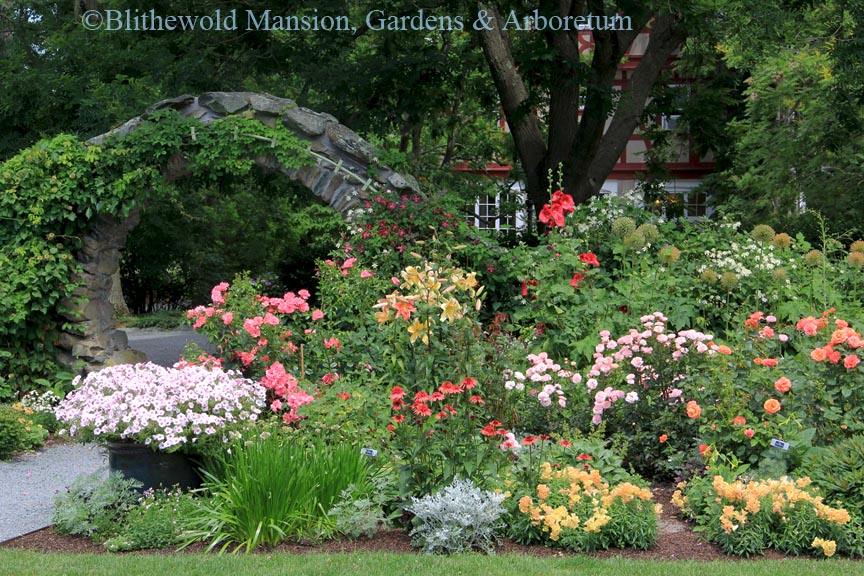 As you can see, the last of the roses are blooming, the hollyhocks are looking lovely, and our annuals are flowering away beautifully in the front of the garden.  But, don't take my word for it, come and see all of this for yourself!  Hope to see you strolling through the gardens soon.