Friday, April 24, 2015
|
|
Daffodil Days
,
Daffodils
,
epimedium
,
Fairy Festival
,
Fairy wings
,
How, When, What-we-do
,
perennials
,
planting
,
projects
,
sensory stimulation
,
Spring
,
transplanting perennials
,
tulips
,
tulips
,
weather
,
what's blooming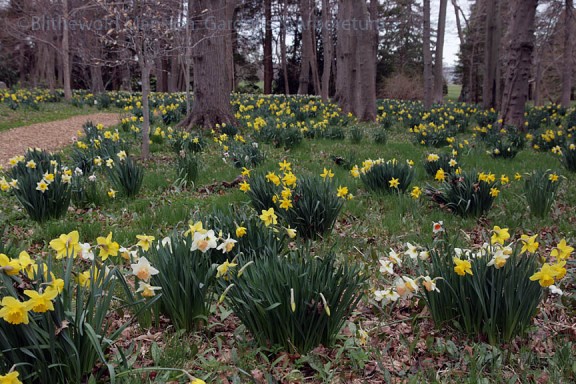 All of our predictions (and hopes back in February and March) about the daffodils putting on a show for vacation week were spot-on. It has been a real spring spectacular! Not only did the daffodils come through for us but other beauties have joined the party too, including a few very early tulips. And just because the spring has sprung doesn't mean it has lost its bounce. Cool nights (and a couple of very chilly days) are helping to extend the show; spring will take its time getting prettier from here on in. The forecast for the weekend demands that we all make outdoor plans, and even though Fairy Festival has been postponed to August, we hope to see you here with bells on (fairy wings optional).
In the gardens we have been endeavoring to keep up with spring. We had a marathon seedling transplant day in the greenhouse on Tuesday and spent the rest of the week weeding — which is so gratifying when the soil is soft. We finished pruning the roses, and starting to play musical perennials in the North Garden. It's not too early to divide and move perennials. The trick, even for us, is properly identifying the plants before hoiking anything out of the ground… It takes an eye test to recognize the sometimes subtle differences in sprouting foliage, and an elephant's memory to remember what should be where. Is it an echinacea or a rudbeckia? A phlox, or an aster, or a penstemon? We pulled out a cart-full of plants and within the next couple of weeks, we will redistribute them into other gardens as soon as we have made room in those. It might seem like plant abuse not to transplant the poor things immediately but as long as we keep throwing water on them, they will be fine bagged up, in the shade.
Has spring sprung in your garden? Do you spend the early days of spring weeding, becoming reacquainted with your plants, and moving everything around too?