Friday, June 7, 2013
|
|
Allium
,
bulbs
,
Chionanthus virginicus
,
Digitalis purpurea 'Alba'
,
foxglove
,
fringe tree
,
ornamental onion
,
Rose Garden
,
Rose Garden
,
sensory stimulation
,
trees
,
weather
,
what's blooming
,
what's fragrant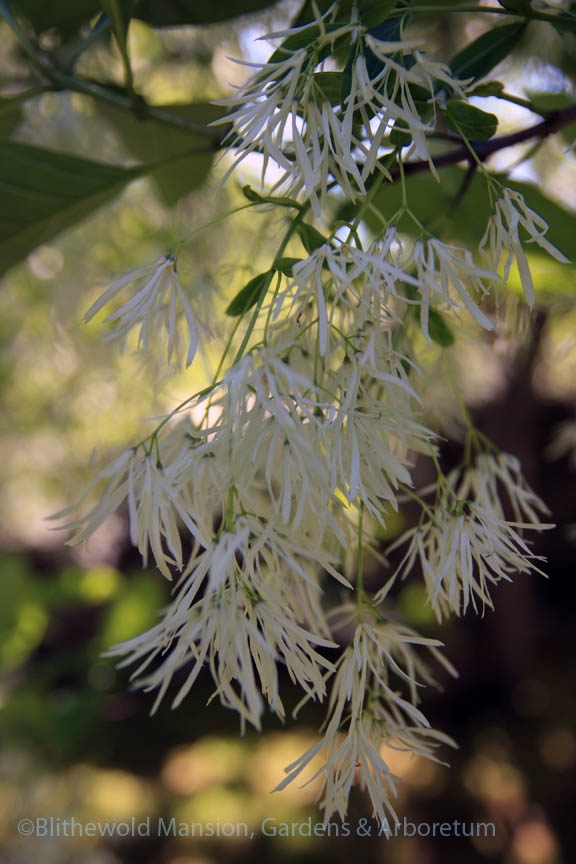 I know I say this every year – and then say it again every week for the rest of the season – but the gardens are prettier than ever. I'm not sure if it's just that we have been so lucky weather-wise that everything is blooming more exuberantly than ever before or if it's that the gardens really are growing more beautiful all the time. I suspect it's a bit of both. I realize now since the trees have been so extra-pretty – not just the dove tree – that I should have been featuring a superstar every week. So without further ado, I give you the  fringe tree (Chionanthus virginicus). Honestly, I'm not sure why this gorgeous little tree isn't as ubiquitous as the Bradford pear. It offers so much more. For one thing it's native to eastern US and perfectly happy to grow in full sun to partial shade (my own blooms away in too much shade.) and stays small enough (12-20′) to fit even in tiny gardens like mine. And right now, just in time for June parties, it has the most graceful dangles of fragrant white Great Gatsby-style feathers. Given where Blithewold's fringe tree is, tucked against the wall along Ferry Road between the entrance gate and the garage, I wouldn't be surprised if visitors missed it. But I am sorry about that. I can only hope that walkers-by have noticed and applauded its display. And now that you know where it is, maybe you'll make the detour to pay it a visit and compliment too.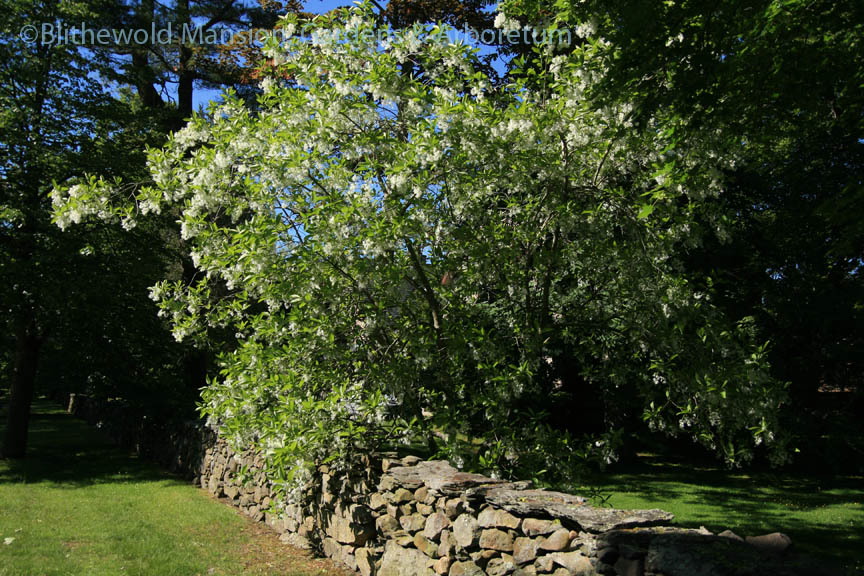 I'm more certain that everyone who has visited Blithewold this week noticed the Rose Garden. It stopped me in my tracks and I wish I could have spent every moment in it. (I did find excuses for daily visits…) The chestnut rose (Rosa roxburghii) has been blooming its branches off and the foxgloves alone demand hours of rapt attention. Not to do anything – they don't seem to need staking (knock wood) and they certainly don't need deadheading yet – but just to stare. Truly, we have never had such a stupendous display. The white ones (Digitalis purpurea f. albiflora a.k.a Digitalis purpurea 'Alba') are a biennial grown from seed by Julie Morris, our director of horticulture, emerita. While Gail and I both remember watering the flat of seedlings in the greenhouse, neither of us can remember when last year (was it June or September?) we actually planted them in the garden. Let this be a lesson to me that no detail is too small to record. With any luck (and if we leave some deadheads standing), these will seed themselves back in the garden for next year, but we'll start another batch in the greenhouse for insurance too. Now that we know we can't live without them.
Can't live without the ornamental onions either. Last october we planted a fresh batch of the firecracker Allium schubertii – they do seem to diminish over time. My other favorites include the tall white and purple dotted (what's up with me lately? I thought I didn't like white flowers…) A. 'Silver Spring', tiny A. caeruleum and another dainty white one, A. amplectens 'Graceful Beauty'. They and the giant purple lollipops of 'Ambassador' are so outstanding that I don't even mind that some of the roses haven't broken bud yet. Next week, when all of the roses are blooming along with the delphinium that are just about to pop, the garden might just knock my socks totally off. And yours too if you visit. (You should.)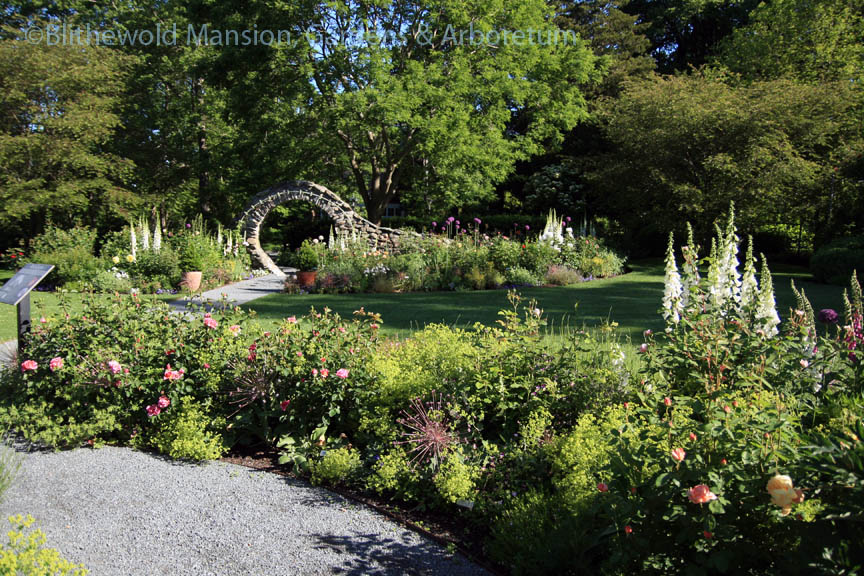 Is your garden more beautiful than ever too? Do you have new (or old) favorites for June? –Do you have a fringe tree?