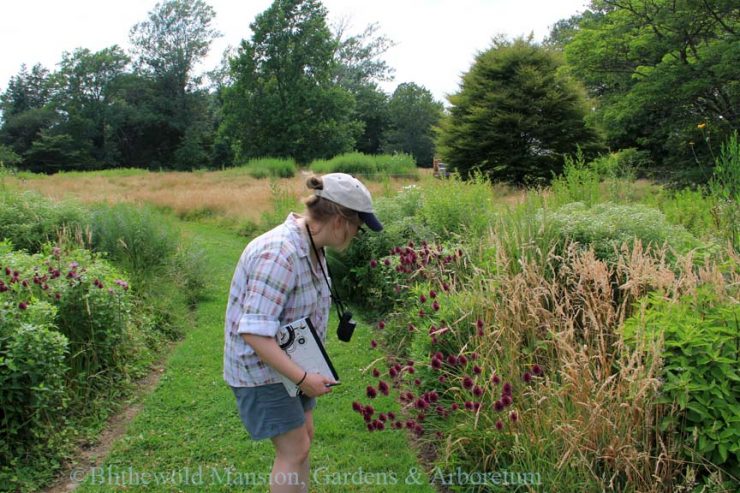 Noticing the natural world is an everyday occurrence when you spend time outdoors.  As gardeners, we see the strong connection between plants and animals, we happen upon curiosities and are simply awestruck by many new discoveries that await in a garden.  It's a fascinating world ever-changing with the seasons.
We are fortunate this year to have a summer research intern, Melanie Gardiner. Melanie is a neuroscience student from Wheaton College interested in behavioral observation examining the connections of animal and human behavior with the environment.  Her project is to observe, research and collect data to document our wildlife here at Blithewold.  We will use her findings next year for our theme of "Life in the Garden".
 Here is a sample from her journal:
   "Many of Blithewold's visitors are brimming with a contagious curiosity and wonder that I've seen nowhere else. I've witnessed countless people come in with their cameras, excitedly snapping photos of the plants, wildlife, their companions, and themselves. Some don't seem aware of my presence in the gardens, and they walk on by, captivated by what they are seeing. But more often than not, visitors ask me if I'm an artist, if I'm here to sketch or find inspiration. Some say that I look like I know something and ask about a plant. When I tell them that I'm researching the life here, they seem delighted and pepper me with questions, which I always am more than happy to answer. In turn, they tell me about themselves: where they came from, why they're visiting. Almost always the answers are from far away and to see plants that they would have to travel the world to see otherwise. I've had some tell me that they've been coming here for years, and they still couldn't get enough of it, and that they were grateful that the grounds were kept open to the public.  It's always inspiring to see their passions on full display. I've been absorbing everything I can here at Blithewold, and hope to do the best I can to convey it to the public, as any aspiring scientist should. Connecting with nature is special and important for all of us, and whether it's in a park, a garden, the beach, or a shady 100-acre wood, our souls will benefit greatly from it."
Click here to see Gail's video of pollinators on a lotus flower.