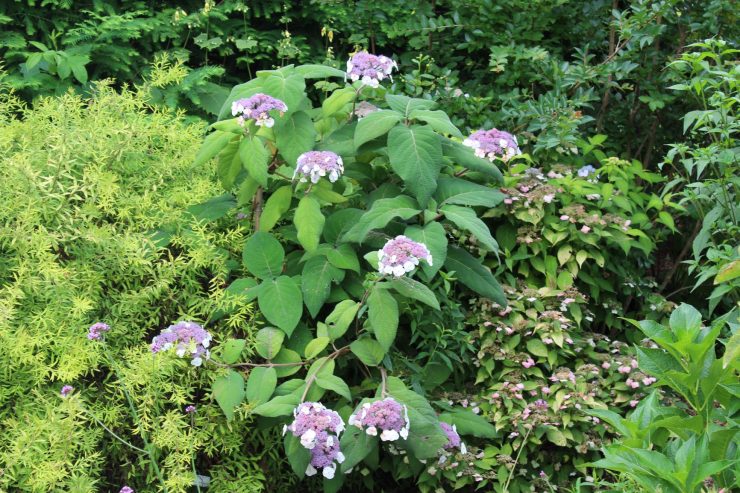 There are always a couple exceptional plants whose brilliance you wait for from the second they stop blooming the previous year. In the wintertime, it's the mental images of these plants that keeps you going. The build-up is immense, with each day's growth bringing more excitement and potential. And when it happens, enjoy it, because it never seems to last long enough.
Planted in the back pocket of the Rose Garden, Japanese clethra (Clethra barbenervis) certainly fits the right plant, right place criteria. Its graceful branches fall gently over the stone wall and the shade of the cherry tree provides protection from the hot sun, perhaps elongating the bloom period. The plant is striking, covered top to bottom in drooping white racemes, or unbranched stems bearing flower buds. The plant has been covered with these inflorescence for over a month now; I waited patiently for bud break, which finally occurred 2 weeks ago. The flowers will bloom up the raceme until all the buds have bloomed.
If there is one plant that's been through a lot here at Blithewold, it's our specimen Caribbean copper plant (Euphorbia cotinifolia). After spending 2017 in a container and the summer of 2018 planted in the rose garden, the specimen was dug, pruned back, and placed in the greenhouse balled-and-burlapped (this plant is not hardy). It looked quite sad throughout the winter, but the plant was ready for a strong comeback. Once the weather started to improve and the plant was irrigated regularly again, it branched out handsomely from where it had been cut back. Now the Euphorbia is turning heads in the foliage bed, and for good reason.
We all love unusual plants, right?  Big-leafed Chinese Hydrangea (Hydrangea aspera 'Macrophylla') has got all kinds of unusual vibes about it. With fuzzy foliage and exquisite purple lace cap flowers, this plant had me fooled when I first laid eyes on it right next to the checkerboard bench. The interior of the flower is composed of sterile florets, surrounded by several fertile flowers, looking similar to the blooms of the climbing hydrangea (H. anomala). Last year, most of the flower buds were eaten by deer before they reached their potential, so I applied deer repellent on them regularly for almost a month. Successful, and well worth it.