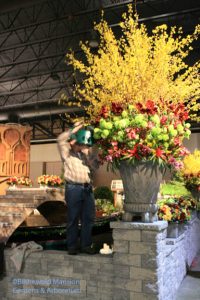 When I made my winter vacation request for last week I asked the universe for extra warm weather so that I could get a jump on spring.  It snowed instead.  But it really didn't matter because I was lucky enough to be snowed in at the Philadelphia Flower show.  An Italian spring was in full mid-summer bloom there.  Now, I have to admit to you that, in general, I am not the biggest fan of these spring flower shows.  There's something that doesn't hit me quite right when I see delphiniums and daffodils blooming together – my family likened it to my aversion to bent spoons.  They think I'm weird.  (I know I am.)  But I have to say that the sheer florabundance of the show was truly overwhelming and like every one else I was drop jawed at the "Milan" display of horti-couture.  Shoes made from plants?  It's as perfect a combination as chocolate and peanut butter.  And I would totally wear the twig dress!
My other favorite part of the show was the Horticourt where people – mostly ordinary every day people as opposed to professional growers – had entered their prized specimen plants in hopes of winning … well, a prize.  I can't imagine being a judge for any of the classes and categories in the Horticourt – all of the plants were beautiful, healthy, perfectly groomed and eminently covet-able.  So of course I stopped through the Marketplace on the way out to … purchase plants (as if I need any more).  Maybe one day I'll shoot for a blue ribbon at a flower show too.
The really interesting thing is that the Philadelphia Flower Show is produced by the Pennsylvania Horticulture Society and is a fundraiser for an amazing program called Philadelphia Green. According to their website, Philadelphia Green was started in 1974 and is  "the nation's most comprehensive urban greening program".  Jane Pepper, president of PHS, showed the group I was with some really inspiring slides of vacant land reclamation and beautification (the befores and afters were truly stunning), thriving community gardens, and their growing (pun intended) partnership with the Philadelphia Prison System – inmates sow seeds for community gardens in their greenhouses and a lot of their produce is distributed to local food pantries.  Coming into town on the train, I happened to notice what had to have been one of the Green's community gardens in a neighborhood that looked like it might be on the wrong side of the tracks.  I'll have to go back to get a glimpse of it under cultivation.  And I definitely want to go back.  I'd never been to Philadelphia or the flower show and they're both high on my list now for do overs.
Did you make it to the show and what did you love about it?  – Or were you snowed in?