Tuesday, March 26, 2013
|
|
Alchemilla mollis
,
Daffodils
,
Daffodils
,
early spring
,
garden clean-up
,
How, When, What-we-do
,
Liriope muscari
,
Moongate bed
,
Spring
,
volunteers
,
volunteers
,
weather
,
winter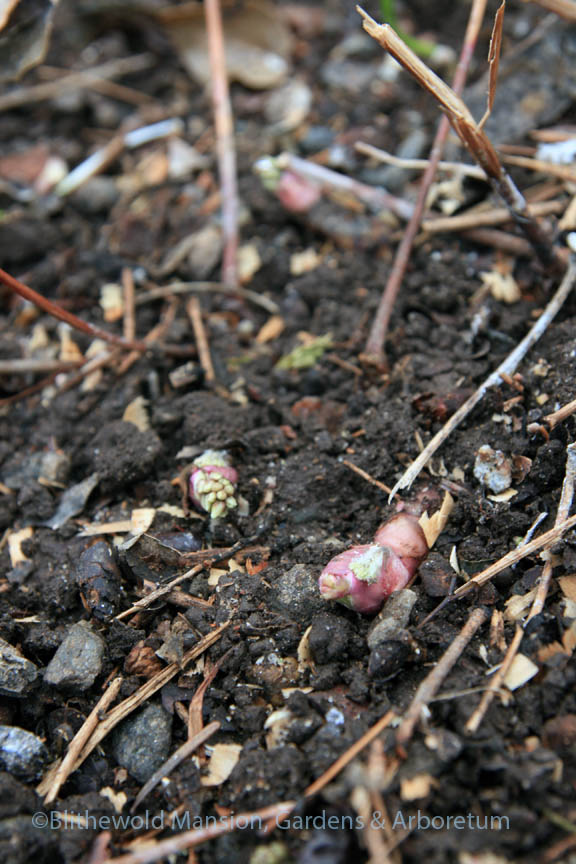 I'm always a little nervous to tidy away winter's protective cover especially while the forecasts yo-yo between mild days and frigid snowy nights. But we're opening officially for the season next week so it must be time to push ahead and welcome spring. Despite a certain chill in the air, it feels really good to get started and the timing is actually perfect. Especially for cutting back plants like lily turf (Liriope muscari) and epimedium that are just starting to sprout. (I think epimedium's new growth might be almost as cute as tiny baby toes. Cuter?) I'm making a mental note that if I wait much longer to take care of that task in my own garden I run the risk of nipping that new growth as it stretches skyward. Yesterday's cut back was also necessary to reveal Blithewold's first batch of daffodils blooming under waves of old lily turf foliage and seedheads. It was an eye test to cut the that back without decapitating those precious daffs – we certainly couldn't have used hedge shears – and we're determined this year – for sure this time – to move those daffodils elsewhere just as soon as they're finished blooming. (The best time to move daffs is right after they bloom and before they disappear for the summer. Exactly when every other garden task needs doing as spring speeds towards summer…)
We also cleaned up as many of the clumps of lady's mantle (Alchemilla mollis) that we could reach and that alone would have made the gardens look like spring is on its way. There's something oppressive or maybe just excessively winter-ish about those brown matted leaves… I'm thrilled to see them go!
The gardens are still too wet to step into so we've been tidying mostly just from the edges so far (the Red Team was in today to start on the pollinator, cutting and North Gardens) and we'll work our way in week by week. Our plan, to keep from compacting the soil this year, is to walk the plank — to put down boards to distribute our weight. That's what they do at Christopher Lloyd's Great Dixter in England and word is, their soil is as fluffy as a cloud. We want that! Have you tried that method? Do you use strategically placed stepping stones or do you just try to wait for the soil to dry out before stepping in to tidy up? Have you started clearing winter out of your garden? — Have you finished?