Friday, April 23, 2010
|
|
cutting garden
,
Display Garden
,
fave rave
,
North Garden
,
North Garden
,
Rose Garden
,
Rose Garden
,
Spring
,
Spring
,
tulips
,
tulips
,
what's blooming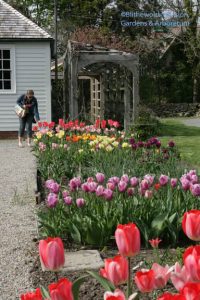 It's easy to see why people have gone crazy for these flowers. One visitor this week commented with amazement in his voice about the variety of colors available in this one flower. It's true – they come in almost every color – all but the truest of blues. In that way they're a little like roses. But roses, when they're healthy and happy, come back the same every year and for better or worse, we're stuck with our choices. Tulips give us a built in excuse to be fickle because aside from the species tulips, most bulbs weaken over time and quit flowering. We try new ones every year and can't keep up with the breeders' variety.
This year we were lucky: they weren't grazed by the deer. We sprayed almost weekly as soon as the leaves emerged with concoctions of "Oh no Deer Repellent", "Deer-Off" and "Deer Stopper" – all commercially available and all a little stinky. ("Deer-Off" was the only one that smelled revolting to me and "Oh No" smelled deliciously like Big Red gum.) Not only did all the tulips bloom but they've almost all bloomed at once – that's a rare sight since they're bred not only for color, size and shape but bloom time. The late ones opened right along with the early ones this month and as luck would have it, they're all hanging on despite rain squalls, wind and sun. Fingers crossed for the weekend and into next week…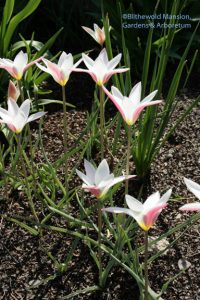 I have more favorites this year than I usually do. (That's not true – I always have a long list.) In the Rose Garden I can't help but love 'Rococco' and 'Snow Parrot' (shown in an earlier post) because they're so over the top fancy-pants. But it's little Tulipa clusiana 'Lady Jane' that really takes my breath away.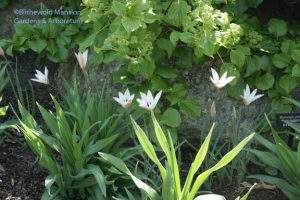 In the North Garden, I'm thrilled with the whole show. We chose 'Amazone', an orange with a green flare; 'Jackpot', the longest lasting tulip ever, based on last year's trial in the cutting garden – I love how the white edge really makes it show up; and 'Pimpernel', a raspberry red lily flower. The whole garden glows.
My faves in the Cutting Garden are 'Viri Chic', and 'Green Wave' even though it hasn't opened yet. We're all enjoying 'Big Chief' (shown in the foreground and at the visitor's fingertips in the top picture). We had it in the Rose Garden last year and I think it is even bigger this year (same bulbs, replanted).
Do you have favorites this year? How often do you plant new tulips?