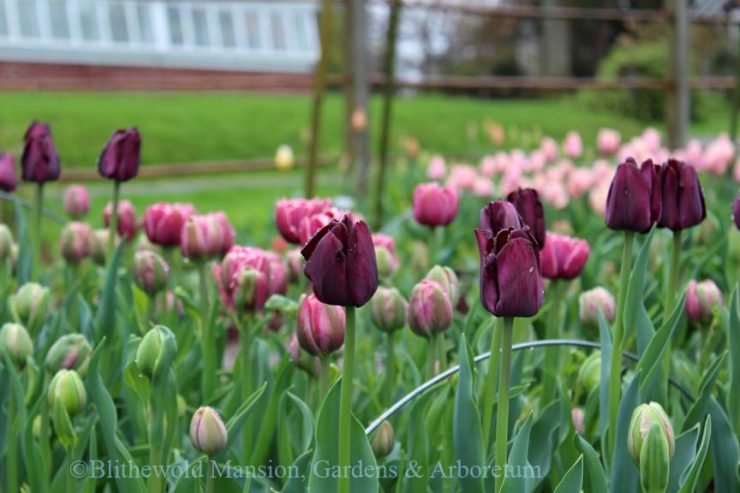 With all the incessant rain lately, I've been badly in need of some cheerful color. The tulips heard my call. Last fall we planted thousands of bulbs across the property and the season of bloom is upon us!
From the moment you drive into Blithewold you'll notice a difference. We decided to boost our opening show at the gate by planting several varieties of daffodils and tulips along with grape hyacinths as a sea of blue beneath the taller blooms.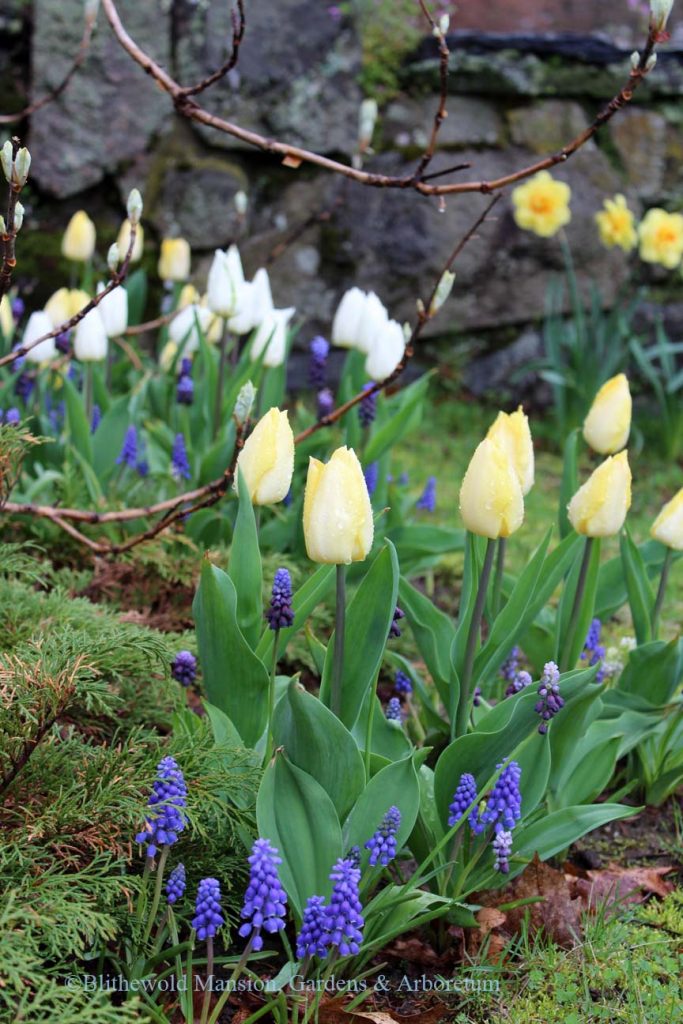 We are so happy to see the blooms did well in the tough soil outside the main gate. It was tough digging, but worth it for sure. Also in bloom in these gardens are daffodils 'Rijnveld's Early Sensation, 'Tahiti' and 'Flower Record' along with grape hyacinths (Muscari mix).
The Rose Garden is overflowing with tulips right now, as well. Tulips 'Mango Charm', 'Salmon Pearl', 'Pays Bas', 'Apricot Pride' and 'Toronto'. You can see that, once again, we under planted the tulips with grape hyacinths (Muscari). We used Muscari 'Blue Magic' and 'Ocean Magic' in this Rose Garden mix.
If you've ever wonder how we decide on our color schemes each year, the answer lies in our Idea Gardens. One of the reasons we plant so many tulips in the Cutting Garden, Herb Garden, Sill Garden and Garden of Hope is so that we can see what tulips perform well and how we like certain colors together. It allows us to play and make mistakes and have fun before we decide for certain that we like a combination. Both the Rose Garden and North Garden tulips developed from plantings we trialed in the Idea Gardens.
North Garden tulips
If the above tulips look familiar, that's because we had a similar combination in the Herb Garden last spring that was chosen by Sean Coffey, our intern from 2016 and 2017. We fell in love with it. It was so elegant that we knew it would be perfect for our more formal North Garden.
Here are a few of the tulips currently blooming in the Cutting Garden.
We have so many beautiful tulips in bloom now, I'm just going to highlight a few more. The Sill Garden is home to a combination I made just for fun because I thought it would be sunny and cheerful. This mix also illustrates some of the variety in shape that exists in the world of tulips. 'Marianne' is an example of a lily flowered tulip, while 'Yellow Pomponette' is a double variety that resembles a peony flower.
The Herb Garden is planted with a mixture of tulips chosen by both Joe and Julia, our intern last summer. Their colors went so well together that we decided to plant them all in one place.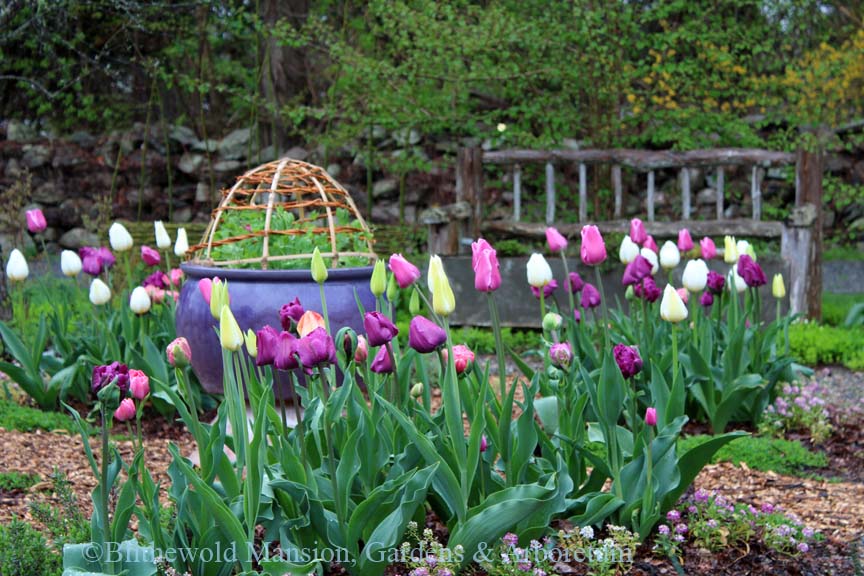 We expect the tulips to put on a show for several weeks and can't wait to see more of the flowers as they open. Come on by and check them out for yourself. You might even find a color combination that inspires you for your own garden!
Happy Spring!