Friday, February 28, 2014
|
|
floral arrangements
,
forcing branches
,
greenhouse
,
greenhouse ipm
,
How, When, What-we-do
,
ladybugs
,
pests
,
Philadelphia Flower Show
,
smarts
,
spring cleaning
,
sustainable gardening
,
what's blooming
,
winter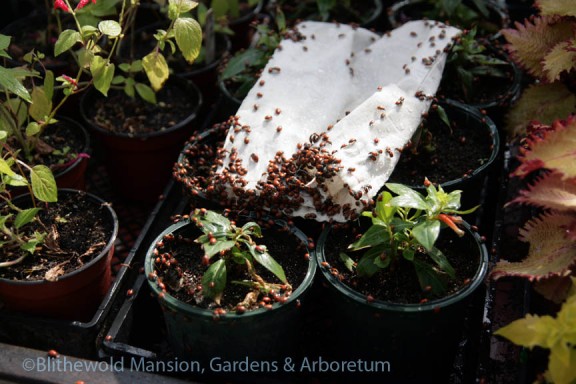 We've made room in the propagating house for trays of seedlings. We've ordered new tools and can't wait to use them. We're ready. Raring to go. Fingers tapping.
Meanwhile, there's nothing better than a bucket of sticks. Except maybe an organized potting bench. Or a bag of ladybugs. Or a trip to the Philadelphia Flower Show.
It's high time to get the winter pruning done and, as it happens, it's exactly the perfect time to force some of those branches into an early bloom. About a month ago, Fred, Dan and Nick offered us crabapple prunings — Gail and I want to use branches for pea stakes in the garden this year. Since they're such pretty spring bloomers, we kept a handful aside to force and they're just popping buds now. The forsythia didn't take as long – never does – and the closer it gets to their real April burst, the quicker it'll be. Gail picked these sticks two weeks ago. A little warm water and a little sunshine did the trick right quick. With the crabapples, I also recut the stems lengthwise to open the pith. Do you do that too or just cut on an angle? (Gail says bashing the stem ends with a hammer isn't "done" anymore – if it ever was. No catharsis there for the spring-feverish.)
With a new set of shelves installed in an otherwise unhandy corner of our potting bench, new (super cute) rolling trolleys from Ikea to hold our soil amendments and potting supplies (fertilizer, turface, turkey grit, sand, potsherds), and reorganized under-bench space for bags of potting soil, we are set to get seeding and potting on winter's cuttings, and will start in earnest next week. (Until then, there's plenty of room for making tiny terrariums.)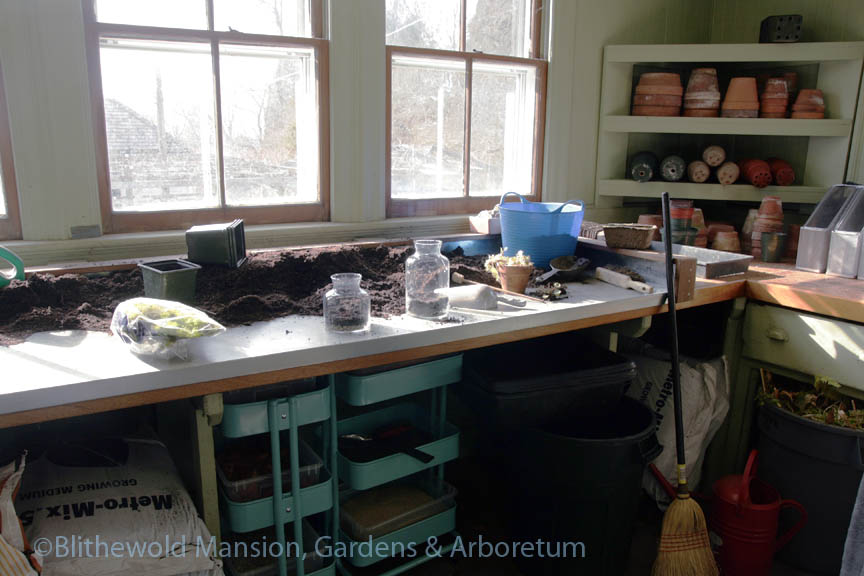 And we received delivery of a legion of ladybugs (top picture) from Blithewold's good friend, Crystal Brinson just in time for spring's "witching hour" when higher daytime temperatures and light levels bring out the succulent and tasty new growth on our container and stock plants. We made sure to mist our plants before releasing the beetles — they come out of dormancy thirsty — and they have already gotten … busy. Fingers crossed for hungry larvae to emerge and eat every aphid in sight in the weeks to come.
I won't be around to see if any babies arrive next week because I'm headed down to the Philadelphia Flower Show. I'll be participating in a container garden challenge at noon in the Gardener's Studio and back there again at 5pm to do a Plantiful propagation demonstration. Hope to see you there! I'll be back with a full report the week after next but stay tuned — Dan will have the blog all to himself. Unless Margaret jumps in… (I LOVE having company here – hope you do too!)