Thursday, August 5, 2010
|
|
August
,
Display Garden
,
Fine Gardening
,
Garden Conservancy Open Days
,
Garden Photo of the Day
,
How, When, What-we-do
,
Lycoris squamigera
,
North Garden
,
Rose Garden
,
Rose Garden
,
spray painted allium
,
vacation
,
what's blooming
,
what's colorful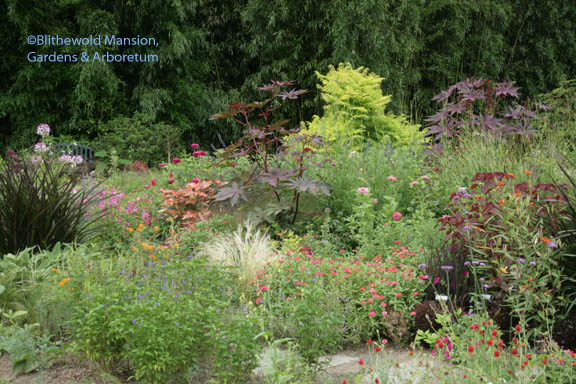 I have looked at these gardens so much that even though they change everyday I can hardly see them anymore. It's not that I'm tired of the garden – far from it. I still want to witness every little change. But it's August and my eyes have grown accustomed. – It's just like not being able to smell the roses for more than a few minutes whenever I work in the Rose Garden.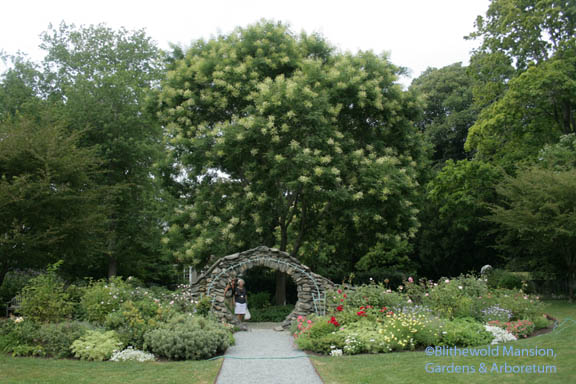 One remedy is to see the garden through someone else's eyes – or camera lens. I love checking out the views that captivate our visitors just in case they'll be new to me too. Michelle from Fine Gardening magazine posted some pictures on her blog, Garden Photo of the Day, that she took during a visit to Blithewold. For me, seeing her photographs (click here and here) in a different context than I'm used to, is like getting a glimpse of a whole other garden than the one I work in every day.
Another way to refresh the senses is to leave your own garden and look at another. Gail and Lilah and I took a trip to one of our volunteer's garden in Little Compton where the views are entrancing and the plant combinations exciting. I hope that our visit – seeing their garden through our eyes – was as helpful to Gioia as the change of scene was for us. Gioia's – and her husband Jim's – garden will be open on September 11 as part of the Garden Conservancy's Open Days Program. Go on tour, if you possibly can.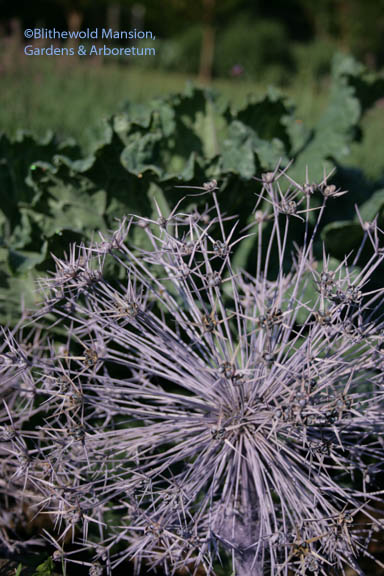 Gail just got back from her two-week vacation and her enthusiasm about how the garden grew while she was gone has been energizing for me. I can see now that it changed a lot. Lilah and I did tinker with it a bit though: The Allium christoffii are blooming all over again! (Who says a gardener can't extend the season with a little spray paint?)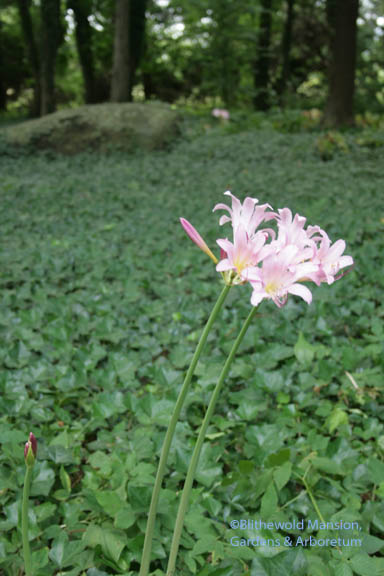 Now it's my turn to go away for a couple of weeks. I'm ready to go – the last items on my to-do-before-vacation list were to fertilize the roses one last time before their final hurrah, and write this post. Check – and check.
I wonder how different the garden will look to me, what I'll miss seeing come into bloom and what surprises might greet me when I return… Stay tuned. (I'll be back to fill you in the week of August 23rd.)
Can you still really see your garden or do you find a change of scene refreshing too?