Friday, September 9, 2016
|
|
cutting garden
,
dahlias
,
dahlias
,
fall
,
fall
,
garden design
,
Gardens
,
How, When, What-we-do
,
Rose Garden
,
Spring
,
the bees
,
weather
,
what's blooming
,
what's colorful
,
what's in bloom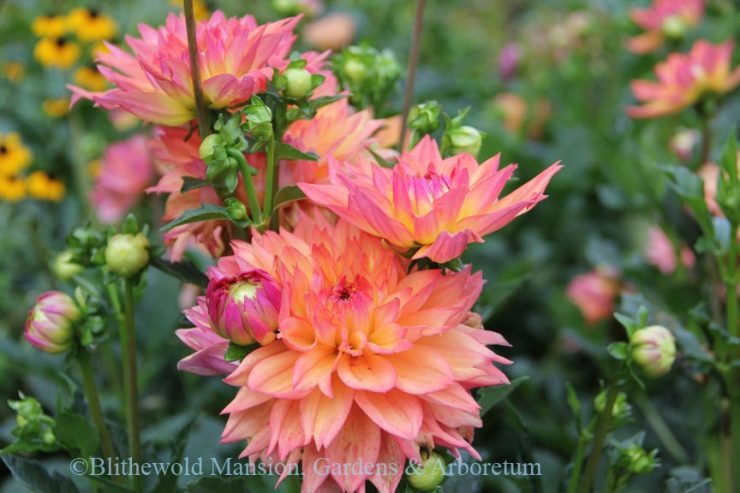 August is exhausting, it has to be said.  The extreme heat and humidity drains every desire I have to linger in the garden.  It seems as though, here in little Rhode Island, everyone and their brother flocks to the beach for the whole month of August.  I do not blame them one bit.  But September is a whole different story.  While students head back to school and teachers back to work, gardeners can take a step back and truly enjoy the months of hard work that are coming to beautiful fruition. September is a favorite month for both Gail and me in the gardens.  The past couple of years I have found myself totally charmed by this month in particular.  It is a stunning time of color and activity.  And the bees are bustling!  I love listening to the hum of these little workers scooping up every bit of pollen that they can.  [They are particularly fond of the Japanese anemones (Anemone spp.) and dahlias  in the Rose Garden.  In the Idea Gardens by the greenhouse it's the fennel (Foeniculum vulgare), anise hyssop (Agastache foeniculum) and mountain mint (Pycnanthemum virginianum) that they favor the most, although they can be found on most any flower you see.]
Amidst all this hustle and bustle in the insect world, Gail and I take a moment to plan for next year (yes, we are already thinking of next year's gardens!).  It is tempting to keep everything the same since it worked out so well (see previous post "Color Vision"  https://www.blithewold.org/color-vision/ ).  But our goal is always to excite and inspire you, so we will make changes to try out new plants and combinations.  Although we change the gardens from year to year, it is impressive even to see the changes from month to month.  Gail recently remarked to me how she was looking over pictures of the gardens from just the last few months and could hardly believe how different they are now compared to then.
That's the thing about working with plants – they're alive.  The garden is never stagnant.  Even though from time to time we wish that everything would stay just as it is, I am glad that it doesn't.  Living things do not work that way.  They grow and flower and send out seed.  They adapt to changes in temperature and environment.  They drink water, breathe air and use the food in the soil.  They are very much alive.  It's fascinating and awe-inspiring.
Take, for instance, the Hydrangeas (Hydrangea paniculata 'Limelight') that are situated above the North Garden.  They started out this spring as just a few twigs in pots.  Now they have grown leaves and flowered and those flowers are turning the most lovely shade of pink.  All this because they are living, breathing and responding to changes in light and temperature (the change in bloom color from white to pink is a result of the age of the flowers).
We respond to change, too.  We have to adapt ourselves to changes in weather (the long drought this summer) and temperature (it's 90 degrees as I write this, but I know cooler air is on its way!).  We also pick and choose which plants will do well despite all these changes.
What have been your favorite plants in your garden this year? Have you been charmed by September in the garden? Are you making plans for any big changes?  I hope you get the chance to see Blithewold in September.  It is truly one of my favorite times of year here on the property.