Friday, March 27, 2015
|
|
bulbs
,
container plants
,
Daffodils
,
F.A.Q.
,
galanthus nivalis
,
How, When, What-we-do
,
Moongate bed
,
pansies
,
sensory stimulation
,
snowdrops
,
Spring
,
spring cleaning
,
spring containers
,
totally ranunculus
,
weather
,
what's blooming
,
what's colorful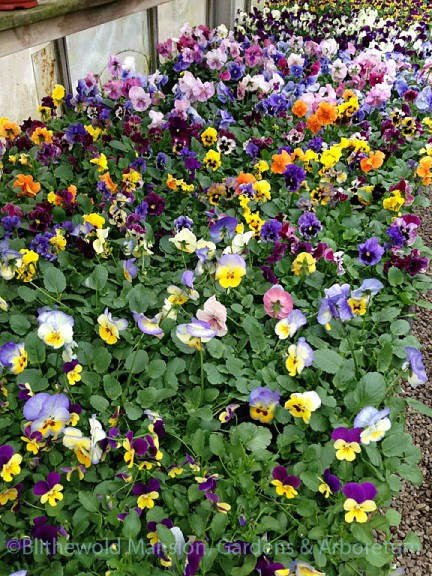 Winter's mess has me craving tidiness (I understand the whole spring cleaning thing now and have gone a little nuts clearing surfaces at home) and its palette of whites, greys, browns, and bronzy greens has made my eyeballs hungry for super-saturated rainbow colors. You too? I had both wishes fulfilled during one dark, rainy day yesterday. Betsy and I started out by taking advantage of a warm(ish), dry(ish) morning to cut back epimedium and lilyturf (Liriope muscari) in the moongate bed. We raked out gravel, fallen sophora twigs, and uncovered more snowdrops and daffodil foliage than we ever remembered being there. …I had forgotten that our volunteers planted more bulbs in that bed last fall… It was so gratifying to finally be outside, and that little bed looks so pretty in its spring readiness that we are really itchy now to get to the rest of the gardens. (Though I'm feeling our efforts today in the small of my back and am glad for a rainy excuse to take it slowly this morning. We're still waiting for snow to melt in some corners too.)
And then yesterday afternoon, we went looking for spring at Peckham's Greenhouse in Little Compton, our go-to nursery for filling early spring containers. They say money can't buy happiness, but it can buy pansies, which is pretty much the same thing in my book. It's hard to believe, given the weather, that we open for the season next week — Daffodil Days officially start, with or without blooming daffs, Tuesday, March 31. But spring is well on its way and we wouldn't want anyone to miss a second of it. So we're doing what we can to roll out the welcome mat and decided that nothing says, "Spring lives here!" like ranunculus and primroses.
We expect the daffodils to begin opening closer to the middle of April and peak towards the end of the month. Stay tuned for updates…
Have you treated yourself to an eyeful of bright colors or a quick tidy-up yet, inside and/or out?