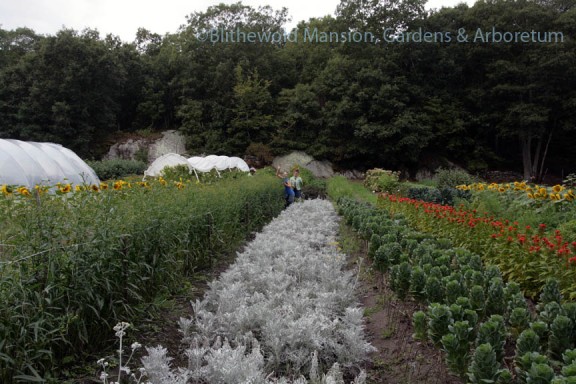 I often tell people that we're too busy in the gardens to get out much. That might sound like a complaint but it's not. For one thing, I hate to miss anything here, and when we do take time out to visit to another garden, it's a huge treat and I always come back inspired. This week Polly and Mike Hutchison opened their cut flower farm, Robin Hollow Farm over in Saunderstown, RI to a small group from Blithewold, and Polly very graciously took time out of her busy day (much busier than ours) to give us a tour.
My pictures don't do it justice. Polly warned us that we wouldn't see many flowers ("If it's in bloom, it should be picked and sold already.") but we caught a gorgeous peek at the day's cuts and the fields we saw, tucked in their namesake hollow, were stunning. And there's no way I can describe the overwhelming amount of work that goes into this business — which includes a booming schedule of event design and farmer's markets — without needing to take a nap first. Suffice to say, theirs is a labor of true mad love and they, and their amazing crew, seem to work together with endless energy and good humor, and incredible efficiency.
The tour was offered as a sort of preview for this year's Garden Design Luncheon. We're so excited that Debra Prinzing, author of Slow Flowers and The 50 Mile Bouquet (among many other titles) and advocate for making the "conscious choice" of buying and sending flowers from local growers, will be speaking on The Slow Flowers Movement, from Field to Vase. Check out her website, slowflowers.com to find cut flower growers in your neck of the woods. And mark your calender: Polly will be giving a workshop on floral design using woodies and shrubs at 10am on October 30 in Blithewold's carriage house; The Garden Design Luncheon, a fundraiser for our education programs, will be held at Rhode Island Country Club on November 6, at 10am; and Debra will be back the very next day, Friday, November 7 at 10am, to give an Eco-Floral Hands-On Workshop in Blithewold's carriage house. Space is limited for each event so follow the links to register now.
Do you make a point of buying flowers and/or arrangements for your big events from local growers? Do you grow your own cut flowers?