Friday, April 11, 2014
|
|
climbing roses
,
Daffodils
,
Daffodils
,
F.A.Q.
,
How, When, What-we-do
,
Lonicera fragrantissima
,
Rose Garden
,
rose pruning
,
Roses
,
Spring
,
what's blooming
,
what's fragrant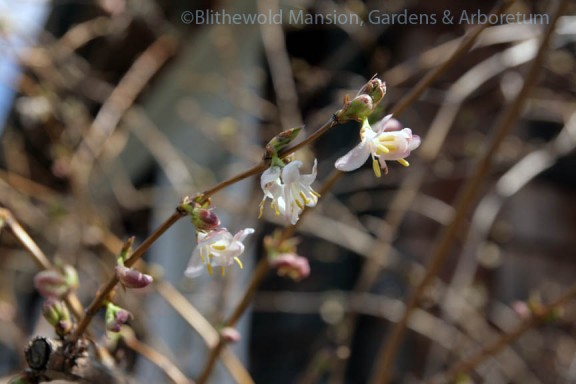 Even though the forsythia hasn't bloomed yet, we declared it time to prune the roses. We can tell that the roses are ready because their buds have swelled and the Ballerinas in the North Garden have even begun to break — to leaf out. The only danger with early pruning is that the new growth stimulated by our snips could be nipped by frost, but according to the long range forecast, the nights appear to be warming. We're good to go.
Gail, Betsy, and I started with the climbers last week. Most of ours are American Pillar and because they only bloom once, we concentrated on shortening the vertical shoots to 4-8″ (3 or 4 buds) along the horizontal canes (those shoots will bear this June's flowers) and removing dead wood. We save the hard pruning (removing older canes) to post bloom, when we are almost always too busy to get to it.
Yesterday, we and the Rose Garden volunteers tackled the rest of the roses, most of which are repeat blooming (remontant) floribundas and shrub roses. Our goal was to clean them up after a tough winter (most looked much worse than usual for winter's wear) and stimulate healthy new growth. We started by taking out all of the dead canes and twigs and then pruned out the oldest canes and anything that crossed through the center and rubbed on another. The remaining canes we shortened by half or more. We identified a few roses that didn't make it – mostly new ones unfortunately – but expect the rest to be resilient and respond to our tough love (it feels like abuse to cut them back so hard) with a robust flush of fat new canes and June flowers. (For a more detailed refresher on rose pruning look back at this post.)
Meanwhile the season is finally springing forward too (with or without forsythia). More flowers are blooming all over the property including winter honeysuckle a.k.a sweet breath of spring (Lonicera fragrantissima) pictured at the top of this post and of course, daffodils. They are just now beginning to open up in the Bosquet and if the weather cooperates – if we have a few more sunny days, warm nights and no more snow (perish the thought) – they should be peaking maybe the end of next week and into school vacation week. It's already so pretty – this weekend will be lovely – but then I love catching spring in its earliest moments. I promise to keep you posted and please follow Blithewold on Instagram and friend us on facebook for more frequent pictures of the changes this season.
Have you pruned your roses yet? Did they suffer much winter damage?