Friday, May 8, 2015
|
|
bulbs
,
Daffodils
,
Daffodils
,
fragrant flowers
,
Koreanspice viburnum
,
Magnolia stellata
,
sensory stimulation
,
spring scents
,
weather
,
what's blooming
,
what's fragrant
,
winter hazel
,
yellow bird magnolia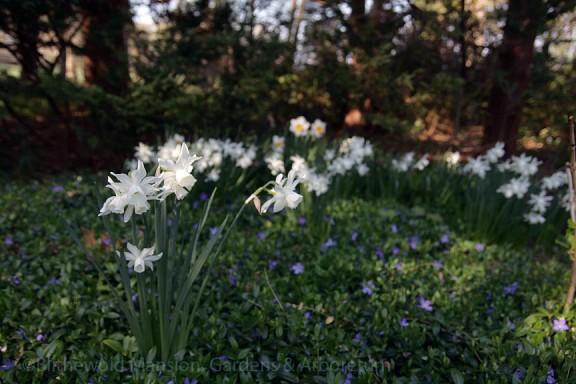 Of all the seasons, spring is the one that puts every sense on high alert. We're all eyes for the colors, have sharp ears for frog and bird songs (we heard the orioles this week), and those of us not plagued by allergies have been breathing so deeply to catch every scent we're getting lightheaded. Or is it just me?
I don't know if the late blooming daffodils have a heavier fragrance than the early ones or if it's the warm weather bringing out their perfume, but the whole property is doused in sweet and spicy ambrosia. 'Kedron', one of our newest daffodils planted in the Enclosed Garden, is the sweetest to my nose while old favorite 'Thalia' (pictured above) has a sharper tang… I haven't put my nose to every trumpet along the paths through the Bosquet — just walking through is enough of a nose-full. And of course the daffs can't claim all the credit for a redolent spring. You can catch cinnamon whiffs of Koreanspice viburnum (Viburnum carlesii) on the breeze; the star magnolia (Magnolia stellata) wafts a light vanilla-ish-ness, and its cousin M. acuminata 'Yellow Bird' smells to me of line-dried laundry. Of all the scents on the property right this minute, the one I want to wear comes from the winter hazel (Corylopsis glabrescens 'Longwood Chimes'). With a kicky ruffled skirt to match.
This is just the beginning; there's so much more to come — the lilacs, for one, and I can hardly wait. And we spent part of our busy week adding to the show by planting eleven new roses, all scented, and hundreds of sweet William (Dianthus barbatus cvs.) in the Rose Garden.
Are you breathing in the scents of spring? Have you planted anything to look (smell) forward to?